Today's style is from
Calico Creations
.
The Jet style is a medium, straight style that just brushes at the tops of the shoulders with a bit of layering on the ends. The face is framed with long, chunky pieces that fall across the face and angles from the left with a few strands crossing the right eyes. Several chunky piece have been given volume to give this style a wild, windswept look. Although this sculptie style was designed with a man in mind, I know several woman who wear this style for themselves.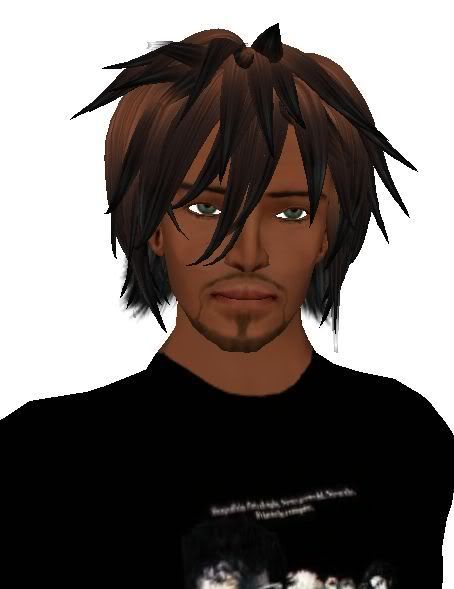 The Jet style costs $10L for all 80 colors and the demos are free. The colors available are: blood(blood, blushed blood, frosted blood, obsidian blood), fire(fire, flaming fire, frosted fire, obsidian fire), sunset(sunset, flaming sunset, frosted sunset, obsidian sunset), copper(copper, flaming copper, frosted copper, obsidian copper), sunkissed(sunkissed, flaming sunkissed, frosted sunkissed, obsidian sunkissed), golden(golden, flaming golden, frosted golden, obsidian golden), dirty blonde(dirty blonde, flaming dirty blonde, frosted dirty blonde, obsidian dirty blonde), tanned(tanned, flaming tanned, frosted tanned, obsidian tanned), bronzed(bronzed, flaming bronzed, frosted bronze, obsidian bronzed), dark brown(dark brown, flaming dark brown, frosted dark brown, obsidian dark brown), midnight(midnight, flaming midnight, frosted midnight, sterling midnight), raven(raven, flaming raven, frosted raven, obsidian raven), silver(silver, flaming silver, frosted silver, obsidian silver), steel(steel, flaming steel, frosted steel, obsidian steel), ivory(ivory, flaming ivory, obsidian ivory, sterling ivory), true blue(true blue, flaming true blue, frosted true blue, obsidian true blue), sea(sea, flaming sea, frosted sea, obsidian sea), violet(violet, flaming violet, frosted violet, obsidian violet), hot pink(hot pink, flaming hot pink, frosted hot pink, obsidian hot pink), olive(olive, flaming olive, frosted olive, obsidian olive).
Skin: EM Natural Male/Facial '4', Clothes: SYD - Lost Boys Crew Neck
Note: You can pick up free memorial 9/11 FDNY shirts at
Style Your Destiny
.