This blog has moved to http://www.savoirhairsl.com/?p=30.
Gurl 6 Hair
is great about offering specials and gifts on holidays. On the front lawn of the shop there is a carousel which sometimes has specials or gifts on the middle of the ride. This past Thanksgiving there was a wonderful gift box filled with several hairstyles that are for sale in the shop. One of those styles was Fairy Tail.
The Fairy Tail style is a long braid that falls down the back past the ass. The face is framed with long, chunky bangs. The braid is nicely designed looking like a real braid and is tied off with a black hair band.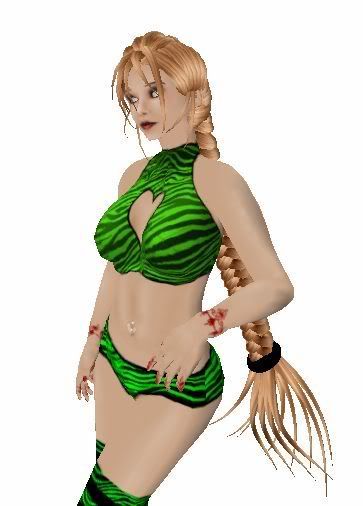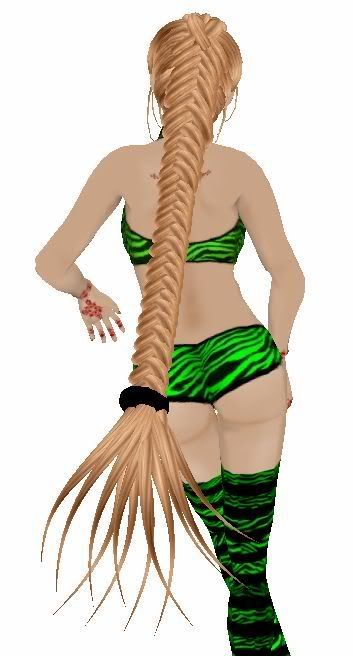 The Fairy Tail style is priced at L$175 per four-color pack. The colors packs are: lights(creamy blonde, honey, golden blonde, light blonde), dirties(rebel, dirty white, dirty honey, dirty blonde), exotics(peach, crystal, cotton candy, black cherry), reds(tangerine, strawberry, natural red, elektra), darks(toast, light brown, dark brown, black).
Skin: PanJen - Hope Tone 1, Clothes: LaynieWear - Not Your Mother's Stripes Green Heart Top, Not Your Mother's Stripes Green Cheeky Pants, Not Your Mother's Stripes Green Stripey Socks, Jewelry: Xcite! - Tribal Belly Piercing, Tattoos: LaynieWear - Henna Tattoo