This blog has moved to http://www.savoirhairsl.com/?p=29.
Kin
is a shop at Eventide that offers retro hairstyles for both men and women. I found this shop when Laynie Link sent me a picture to ask where a hairstyle came from. After both of us hunting, we tracked it down to a style by Kin Keiko at Kin.
The Pin Up style comes in both an up, ponytails, and down style. The bangs are straight cut Bettie Page bangs which are straight, slightly curled under bangs. There is height given to the style by a large curl on either side of the bangs. One style offers two, low ponytail with a corkscrew curl and the other offers long waves down just past the shoulders.
Guest Model: Laynie Link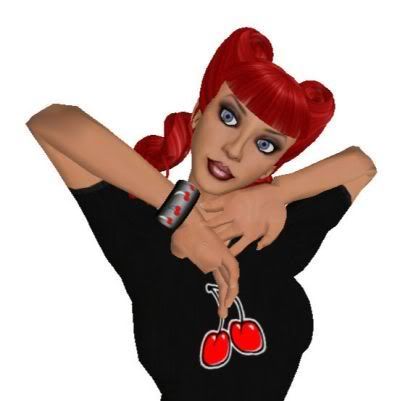 The Pin Up style costs L$125 per color, all colors for L$1020 and the demos are free. The colors include: red, orange, yellow, green, blue, purple, brown, black, white, and blonde.
Skin: Nevermore Studios - Hybrid II Vestal Face #9, Clothes: LaynieWear - Cherry Graphic T-shirt, Jewelry: LaynieWear - Cherry Bracelet