I was talking to my friend Delora the other day, and she had on the most amazing dreads I've seen on the grid. I begged her to tell me where they were from (mostly to keep her from suffering pain as I snatched her bald), and she replied, "
SoReal
." I tp'd over almost immediately and was sorely disappointed- there's only one style! (Hint- MAKE MORE!)
Honestly, these are the best dreads I've seen on the grid. They're a huge bundle of hair, with small dreads escaping. Around the hairline are soft curls that are too short to be incorporated into the dreads yet. They're also unisex, even though I kept them for my girlie avatar.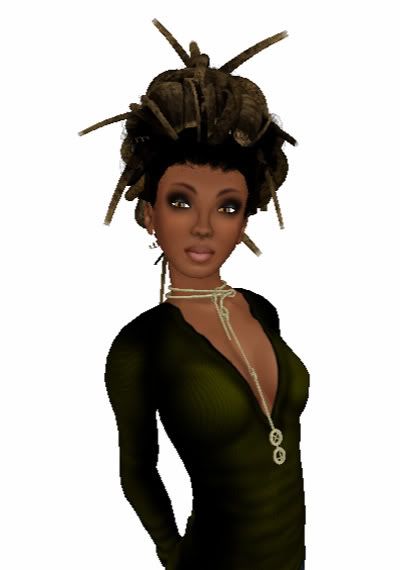 From the back, you can see the bun the dreads form, with the stray bits poking out. There are also a few random curls that haven't been incorporated yet. What amazes me about this style is the sheer organicness of it. I can't say enough good, seriously.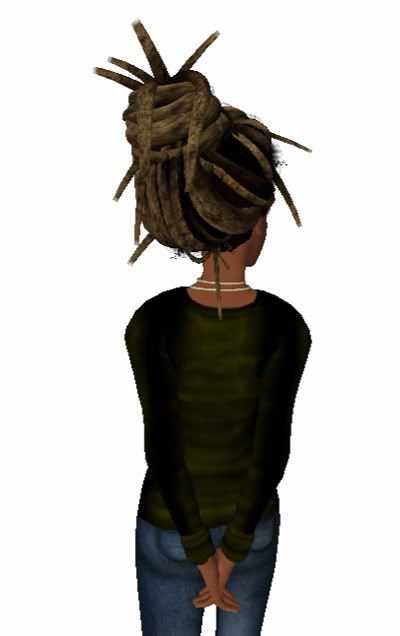 The SOREAL Original Rasta Bun V2 only comes in one color, although it has bases for both men and women. It's L$599 with no preview. However, the hair is scripted to change size easily. honestly, though? I tried this hair with three head shapes, and they all worked like a charm. You need this hair. You WANT this hair. Go, shower the maker with love and lindens. We need more organic hair like this in the game!
Another Fundraiser-SKIN2.0 - Yasmin skin (Kohl makeup), Skin2.0 Yu shape, Gurl 6 Eyes - Golden by PopFuzz, Sweater - AC Fondant Forest Green, *TorridWear*-Favorite Jeans, Mechanica necklace - gold, TESLA - 'Estella' Heel *black*