I did it again. I decided my boy avatar needed new clothes. And hair. God, the hair... I ended up at
Truth
, again. Did you know Truth Hawks does clothes too? Well, my pocketbook certainly does! But isn't it worth it? Boylaynie looks so CUTE!
This time, I decided to go with Jared 2 by Truth. This messy style, with long asymmetrical bangs grabs your attention, teasingly hiding the left eye. Several curls poke out randomly. So adorable!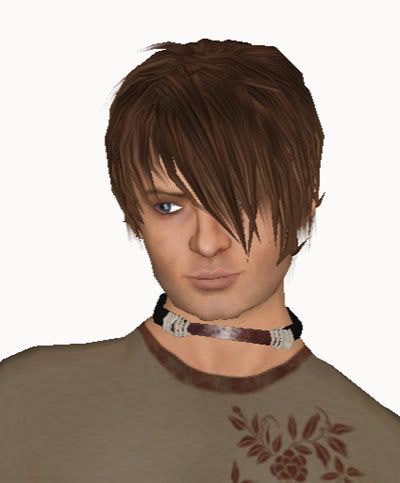 From the back, this style is a tousled mess that makes me want to run my fingers through it! Wait, is it bad to wanna molest my boy avatar? He's cute! It's ok, really!
The Jared 2 style costs $1000L for a fat pack, $100L per color, and the demos are free. The colors include: auburn, black, blonde, blueberry, brunette, burgundy, candy, dark blonde, dark choco, fire, nutmeg, sable, silver, violet, honey, toffee, jelly, carrot.
pose - [LAP] - Yup, Skin - MMS-Pale-h-shaved, Gurl 6 Eyes - Blue by PopFuzz, *TRUTH* - Long Sleeve Basics [Dust], *TRUTH* - Picnic Denim, Fuse Necklace rustyred