Mmmm, hats. I can't wear hats in RL, I tend to look ... well, odd. Hats don't like me, unless they're kitty hats. But in SL, I can wear anything, right?
This leads me to
Tousled
's Reed. This hat is an adorable tweedy casual hat that makes me smile. The random curls escaping from the ponytail in the back are so me...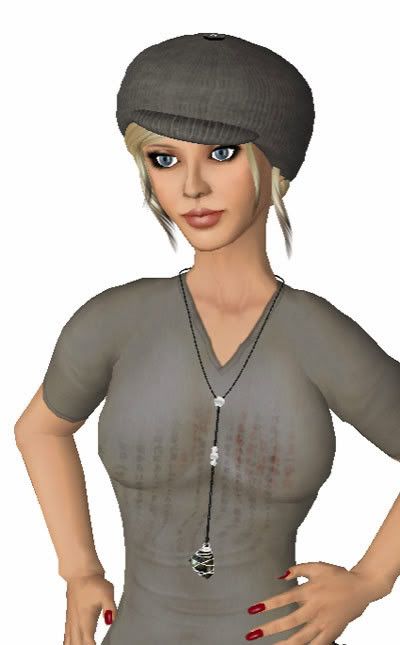 From the back, you can see the short ponytail and the reason so many bits escape!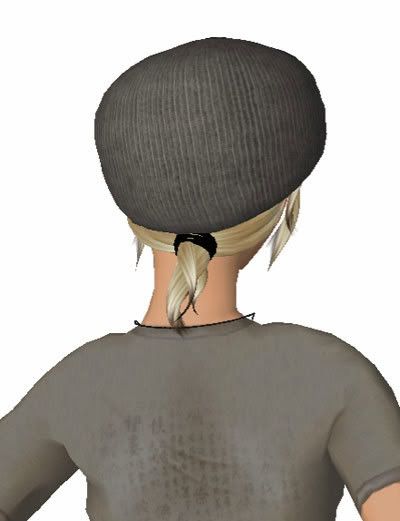 The Reed style costs $1800L for a fat pack, $200L per 5-color tipped packs, $200L per 12-color tipped packs, $150L per 3-color packs, and the demos are free. The colors include: amethyst, amethyst_blacktip, amethyst_whitetip, darkash_blondetip, darkblonde, darkblonde_blacktip, darkblonde_whitetip, darkbrown, darkbrown_blacktip, darkbrown_whitetip, darkgray, darkgray_blacktip, darkgray_whitetip, darkgreen, darkgreen_blacktip, darkgreen_whitetip, goldenblonde, goldenblonde_blacktip, goldenblonde_whitetip, goldenred1, goldenred1_blacktip, goldenred1_whitetip, grape, grape_blacktip, grape_whitetip, grass, grass_blacktip, grass_whitetip, gray, gray_blacktip, gray_whitetip, green, green_blacktip, green_whitetip, lightbrown, lightbrown_blacktip, lightbrown_whitetip, lightpink, lightpink_blacktip, lightpink_whitetip, lilac, lilac_blacktip, lilac_whitetip, mahogany, mahogany_blacktip, mahogany_whitetip, mediumblonde, mediumblonde_blacktip, mediumblonde_whitetip, midnight, midnight_blacktip, midnight_whitetip, onyx, onyx_blacktip, onyx_whitetip, orangyred, orangyred_blacktip, orangyred_whitetip, pink, pink_blacktip, pink_whitetip, purple, purple_blacktip, purple_whitetip, rainbowblonde_bluetip, rainbowblonde_clovertip, rainbowblonde_mahogany, rainbowblonde_pinktip, rainbowblonde_purpletip, red, red_blacktip, red__whitetip, wheat, wheat_blacktip, wheat_whitetip, white, white_blacktip, white_darkgraytip, whitetip_blue, whitetip_green, whitetip_pink, whitetip_purple, whitetip_red.
Pose - (N) Pose 014, Skin - LW Laynie All Neutrals, MM-Catwalk Eyelashes, Fleur Scarlet nails, Gurl 6 Eyes - Blue by PopFuzz, *NB* Hombre: Relaxed T-Shirt (Sand), *TRUTH* - PICNIC DENIM, PornStar Hi-Tops MultiColor, *NB* Hombre: Relaxed T-Shirt (Sand), ::: kc ::: 2008 St. Valentine's Day (Belt)