Junwave
has really affordable hair ranging from free to $100L a color. There are also a few outfits to add to your wardrobe. There is currently a special style out for Valentine's Day for $5L.
The Hairband Hair style is the ultimate 80s rocker hair. It is a high volume straight style that fall just past the shoulders with razor cut ends. There is a white clothe hair band that wraps the head with half the hair on top and half below giving the appearance of layers. A loose strand of hair crosses the bridge of the nose from right to left slightly touching the left eye. This hair gives me the urge to sing:
Shooting at the walls of heartache. Bang! Bang! I am the warrior.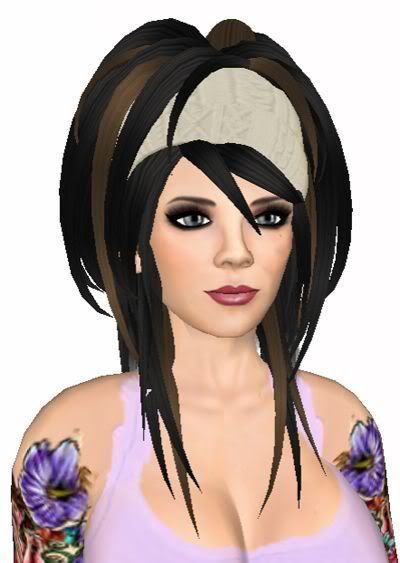 The Hairband Hair style costs $140L for a 3-color pack, $60L per color, and the demos are free. The colors include: black with brown strands, brown, and brown with black strands.
Pose: AnimaH - Super Chick, Skin: Tuli - S5 Pale Diva 3, Clothes: Ravenwear - Deadly Lollypop, Eyes: Gurl 6 - Silver by PopFuzz, Lashes: Cake - Bedroom Lashes