Ahhh, a new transitions style. There's something wonderful about being able to get two styles for one price. You even get a cute animation with your avatar changing her hair!
Pazazz's
Sorrow
doesn't disappoint. the front has rounded bangs framing the face, with the rest of the hair pulled back neatly. There is a slight issue with the transparency (see the dots around my eyes?) but it's not a huge deal to me. There's no real difference between the two styles in the front.
When down, the back is a rich, sleek french braid tied at the base of the skull, with a loose ponytail at the bottom.
When up, the back is an elegant knot of hair, with stray tendrils escaping at the neck.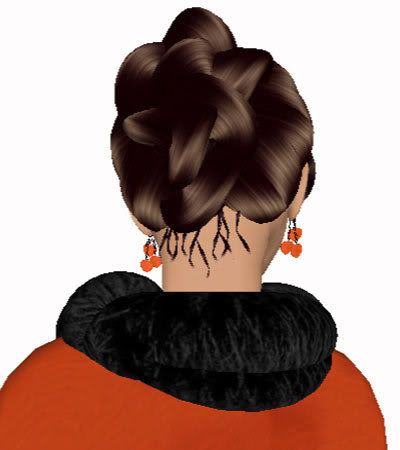 The Sorrow style is L$300 for the tip'd pak or the solid pak. The colors include: cool blondes(iced, gold, frosted), creamy blondes(silk, maple, cream), light browns(katte, golden honey, caramel), dark browns(mocha, coffee, ash), soft blacks(smoke, raven, carbon), rich blacks(midnight, ink, coal), deep reds(merlot, cinder, chili), warm reds(wine, tart, cinnamon), funky pak I(micha, lollypop, clover), funky pak II(silver, glow, burnt), jewel tones I(sapphire, ruby, emerald, citrine), jewel tones II(onyx, diamond, andalusite, amber), tip'd iced pak(iced in sapphire, iced in ruby, iced in onyx, iced in emerald, iced in diamond, iced in amber), tip'd maple pak(maple in sapphire, maple in ruby, maple in onyx, maple in emerald, maple in diamond, maple in amber), tip'd latte pak(latte in sapphire, latte in ruby, latte in onyx, latte in emerald, latte in diamond, latte in amber), tip'd mocha pak(mocha in sapphire, mocha in ruby, mocha in onyx, mocha in emerald, mocha in diamond, mocha in amber), tip'd raven pak(raven in sapphire, raven in ruby, raven in onyx, raven in emerald, raven in diamond, raven in amber), tip'd midnight pak(midnight in sapphire, midnight in ruby, midnight in onyx, midnight in emerald, midnight in diamond, midnight in amber), tip'd merlot pak(merlot in sapphire, merlot in ruby, merlot in onyx, merlot in emerald, merlot in diamond, merlot in amber), tip'd cinnamon pak(cinnamon in sapphire, cinnamon in ruby, cinnamon in onyx, cinnamon in emerald, cinnamon in diamond, cinnamon in amber), lilac tip'd pak(raven in lilac, mocha in lilac, midnight in lilac, maple in lilac, latte in lilac, iced in lilac), grape tip'd pak(raven in grape, mocha in grape, midnight in grape, maple in grape, latte in grape, iced in grape), taffy tip'd pak(raven in taffy, mocha in taffy, midnight in taffy, maple in taffy, latte in taffy, iced in taffy), jellybean tip'd pak(raven in jellybean, mocha in jellybean, midnight in jellybean, maple in jellybean, latte in jellybean, iced in jellybean).
PRIM LASHES - free from Alady Island; Skin - /artilleri/ lily (sunkiss) *autumn*; Gurl 6 Eyes - Blue by PopFuzz; /artilleri/ kats coat *orange*; /artilleri/ glitter love *orange* earrings