Today's style is from
booN
.
Ok, I have to admit to something. I love cute names for hair. It helps me remember which hair I love... and honestly, there is no way my dyslexic mind is going to remember HNB27. (I'll just have to rename it to something else so I can find it again!) I say that because this hair is worth finding in my *cough*HUGE*cough* inventory.
The front has a middle part, and it looks like the bangs are tucked behind the ears. The hair has that messy, "I've just gotten out of bed after a fantastic romp" look.
The back has lots of volume, with messy bits falling around the neckline. Short and sassy.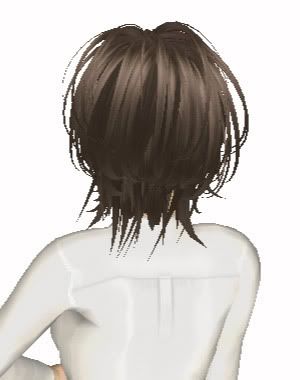 Prices for this hair are: free for the demo, 2 color pack - L$220, 6 color pack - L$550, all colors - $L1000. Your color selections for HNB27 are red, platinum, mat, jetblack, honey, gold, chocolate, chestnut, brown, blonde, black, and ash.
skin - TaP Vivant Almond Paon 2; Gurl 6 Eyes - Blue by PopFuzz; MM-Catwalk Eyelashes; Blaze* Boyfriend Buttondown Top