The
Revival
style from Pazazz is definitely an eye-catcher. The front's side-swept bangs fall in front of the left eye, giving a flirty look. Most of the hair is pulled back to the top of the head, cascading down in a fall of loose curls.
The back is wild and sexy, loose curls falling tangled to the mid-back.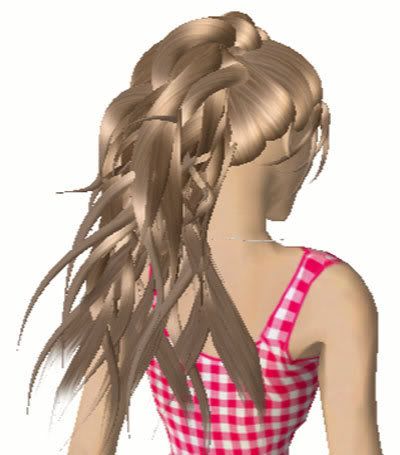 Demos for this style are L$1, the tip'd and solid paks are L$200 each.
The colors include: cool blondes(iced, gold, frosted), creamy blondes(silk, maple, cream), light browns(katte, golden honey, caramel), dark browns(mocha, coffee, ash), soft blacks(smoke, raven, carbon), rich blacks(midnight, ink, coal), deep reds(merlot, cinder, chili), warm reds(wine, tart, cinnamon), funky pak I(micha, lollypop, clover), funky pak II(silver, glow, burnt), jewel tones I(sapphire, ruby, emerald, citrine), jewel tones II(onyx, diamond, andalusite, amber), tip'd iced pak(iced in sapphire, iced in ruby, iced in onyx, iced in emerald, iced in diamond, iced in amber), tip'd maple pak(maple in sapphire, maple in ruby, maple in onyx, maple in emerald, maple in diamond, maple in amber), tip'd latte pak(latte in sapphire, latte in ruby, latte in onyx, latte in emerald, latte in diamond, latte in amber), tip'd mocha pak(mocha in sapphire, mocha in ruby, mocha in onyx, mocha in emerald, mocha in diamond, mocha in amber), tip'd raven pak(raven in sapphire, raven in ruby, raven in onyx, raven in emerald, raven in diamond, raven in amber), tip'd midnight pak(midnight in sapphire, midnight in ruby, midnight in onyx, midnight in emerald, midnight in diamond, midnight in amber), tip'd merlot pak(merlot in sapphire, merlot in ruby, merlot in onyx, merlot in emerald, merlot in diamond, merlot in amber), tip'd cinnamon pak(cinnamon in sapphire, cinnamon in ruby, cinnamon in onyx, cinnamon in emerald, cinnamon in diamond, cinnamon in amber), lilac tip'd pak(raven in lilac, mocha in lilac, midnight in lilac, maple in lilac, latte in lilac, iced in lilac), grape tip'd pak(raven in grape, mocha in grape, midnight in grape, maple in grape, latte in grape, iced in grape), taffy tip'd pak(raven in taffy, mocha in taffy, midnight in taffy, maple in taffy, latte in taffy, iced in taffy), jellybean tip'd pak(raven in jellybean, mocha in jellybean, midnight in jellybean, maple in jellybean, latte in jellybean, iced in jellybean).
*NB* Prim Eye Lashes - Total Glam (Gold Tipped); Skin - TaP Vivant Almond Candy 1; Gurl 6 Eyes - Blue by PopFuzz; Dress - bossa nova - picnic dress - candy apple (group gift); Necklace - ABD (Starflake Rose Zircon Lady 5L gift set)