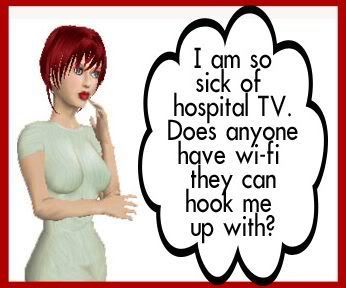 Laynie Link has been in the hospital since Thanksgiving Day. I will spare you all the lovely details but she cannot eat or drink anything. The doctors do not know if it is food poisoning, a virus, inflammation, or something else at this point. She has an IV for fluids and is twitching miserably with nothing but hospital TV to keep herself occupied. They will not let her leave until she can eat and drink without getting ill.
For those who sent her hair for review for Savoir Hair, she will get to it as soon as she is feeling better.
For those with customer service issues for LaynieWear, please put all issues on a notecard and drop it on her. If it is an extreme emergency, you can message me in game and I can mention the issue during the next phone call.