Do you ever have one of those days, where you just feel like throwing on a hat and going? Well, as I found out the hard way, hats and hair don't mix so well in SL. Throw on a hat, and you'll have random bits of hair poking out. This, my friends, is NOT GOOD.
Well, the people at
Nocturnal Threads
(who also have a
website
)noticed this, and decided to do something about it. This is the result, and I'm just crazy about it. The hair itself is black with bright red ends which flip up sort of randomly. Looks like you rolled out of bed, gave your hair a good brushing, then threw the hat on.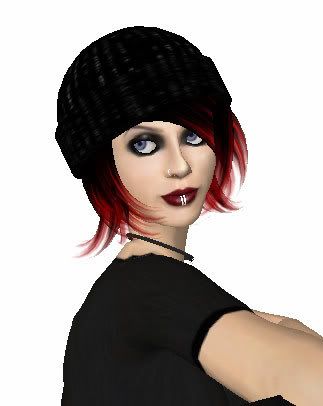 The back has shoulder length hair that flips out cutely from under the hat. The hat itself is well done as well.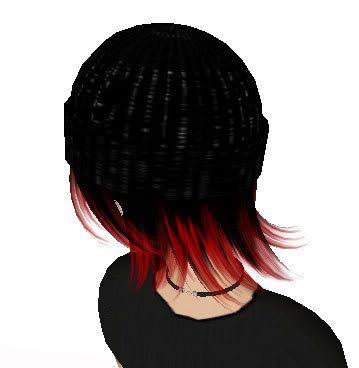 This style goes for L$135, and has a variety of colors, both of hair and hat. The colors are black cap & black/purple hair, black cap & black/red hair, leopard cap and black & honey hair, black cap and black & white hair.
Shirt- LaynieWear Tee- You, Me, My Harbl; Jewelry: Trinity Choker, Lip Ring Bonia, Nose Ring Bonia;Skin- Tete a Pied Vivant Almond Biba 2