Today's style is from
Gurl 6 Hair
.
The Runaway style is a long, straight style that falls to the knees with half of the hair gathered into a messy updo with tendrils cascading to the shoulders. The updo part of the style is pulled forward on the crown being held in place with a pair of chopsticks. Fly away tendrils fall down the sides in front of the ear to the jawline framing the face. The name of the style fits it well with its many runaway tendrils given the entire style a windblown look.
Guest model: Cherlindrea Lamont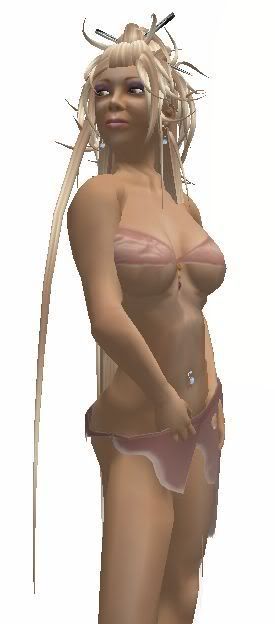 The Runaway style runs L$195 per color pack which comes with 4 colors in small, medium and large, $999 for the everything pack with 33 colors in small, medium, and large, and L$1 for the demo. The color packs include: dazzle(shimmeryred, peachy, copper, ginger), delicate(straw, gold, cream, blonded), sugar(vicious pink, raspberry lemonade, electric candy, cotton candy), seduction(toast, light brown, elektra, dark brown), dipped(pink dipped blonde, pink dipped black, dipped strawberry, black dipped blonde), drama(milk, blackwhite, blackred, blackgloss), hotstuff(tangerine, strawberry, sexy red, natural red), sunshine(light blondish gold, light blonde, golden blonde, creamy blonde), dirties(honey, dirty blonde, black n gold, black light brown), sultry(caramel, chestnut, hazelnut, goldenbrown), platinum(platinum, platinumred, platinumpink, platinumblack), midnight(rebel, dirtier white, black cherry, black), berries(seducationplum, deeperpurple, blueberry, blue), diva(toffee, sand, cocoa, chocolate), candy(blackwblondetips, blacksilver, blackblue, blackpurple).
Skin: PanJen Cutsey Skin, Jewelry: Alienbear Designs - Baby Blue Moonstone Diamond Set, Clothes: Cuja Silks - Pink Silk Set, Shoes: Angry Ant - Fetish Buckle Black Heels