Today's style is from
Diversity Hair
.
The Forbidden style is a long, straight style that falls to the middle of the back with two short ponytails sitting high on either side of the crown. The hair in the ponytails is a wild, mess of strands that wave in all directions. The bangs part left of center and crossing the right eye to the cheekbone. This style is fun and youthful.
Guest Model: Cherlindrea Lamont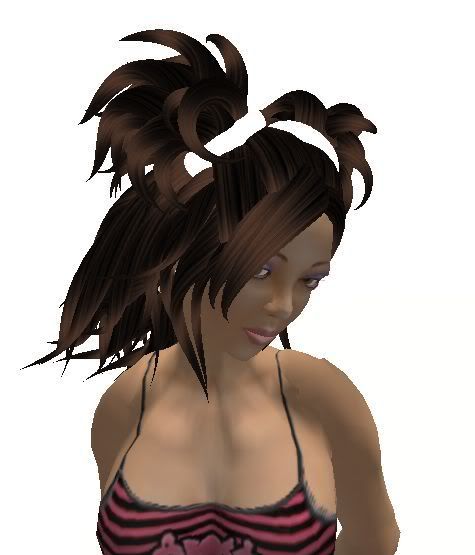 The Forbidden style costs L$1500 for the mega-pack, $300L for 6-color packs, L$175 for a 3-color pack, and the demos are free. The colors included in the packs are: blondes(wheat, goldie, creamy orange), dark blondes(highlights, butterscotch, ashy), platinums(platinum sky, platinum pink, platinum), platinums II(platinum ink, platinum fire, platinum burnt), browns(chocolate, chocolate frost, brown), browns II(orange brown, light brown, butter tip), dark browns(deep brown, chestnut, brown black), reds(light red, bright red, auburn), coppers(dark copper, copper, burnt copper), oranges(reddish, dark orange, carrot), wilds(purple, green, blue tip), pinks(pink tip, pink inked, bubblegum), black tips(turquoise tip, silver ink, red black), blacks(dark black, black frost, black fire), blacks II(black purple, black poison, black pink).
Skin: PanJen Cutsey Skin, Jewelry: Alienbear Designs - Baby Blue Moonstone Diamond Set, Clothes: Canimal - Pink Pirate Outfit