This updo from
Tickled Pink
walks the line between anime cute and "Oh God, I'm gonna throw up from the cuteness!" Thankfully, I think it stays on the anime cute side.
Morgan is sleek and smooth, with a few choppy bangs framing the face. The ribbons on the buns also peek around from behind, giving that hint of girlieness.
From the back, the lines are clean and crisp. Two high buns sit on either side of the head, just behind the ears, with curled ribbons wrapped around and falling free. The hairline on this is beautiful. While it's not a style I'd see on myself, it's very well done and the texture is nice.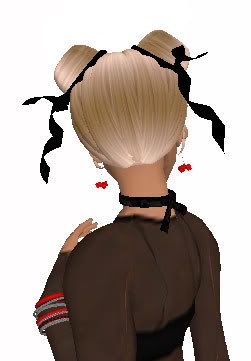 Morgan is copy, modify, no transfer, and comes in single colors for L$195, and the truly tickled pack is L$1200. The color choices are: snow white, reddish brown, red, raspberry, platinum blonde, pinky, olivina, midnight blue, marine, mahogany, honey blonde, grey black, greenery, grapefruit, golden brown, golden blonde, french roast, espresso, electric blue, dark blonde, dark auburn, chestnut, blush, bloom, black cherry, black, autumn, auburn.
Shirt - *TorridWear*-Mesh Top, Jewelry - 74 Iron Baubles - Jewelry Set by Elle74 Zaftig, /artilleri/ red and white bracelet, /artilleri/ triple dice earrings, Skin - HYBRID II - Vestal - Face #9