Curious Kitties
is a shop that sells anime and neko style hair. Although I loved the array of textures offered in this shop the layout was a bit scattered and lacked the consistency that other shops display. I would have loved to have seen texture demos because many of the texture were unusual and it is hard to work out how some textures look on a wig from square or triangle.
The Mariska style is a short, long, braided, ponytailed style all rolled into one. There are five low braids, 2 in front and 3 in the back, that are fall straight turning into ponytails a quarter of the way down until they end at the waist. The back of the style also has short cut edges that are softened to the beginning of the braids. The same soft edging frames and falls into the face parting left of center and falling to the ears.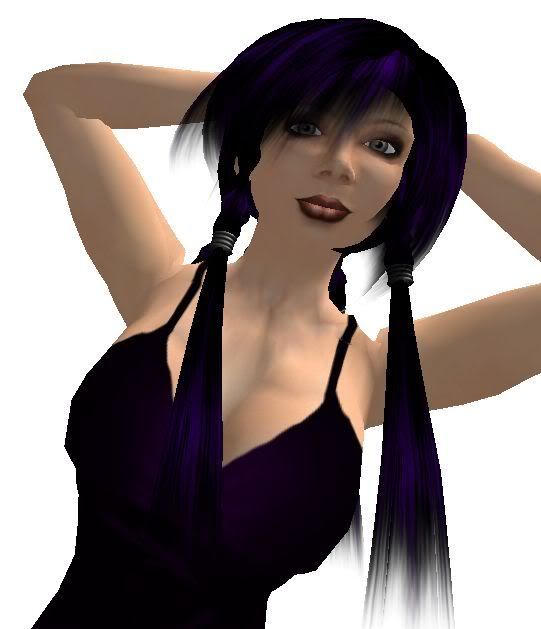 The Mariska style costs $190L per color and the demos are $1L. The colors include: cotton candy, princess pink, baby, cyborg pink, fading pink, juicy pink, gray, coal, dispair, thick black, pink black, red black, purple black, blue black, green black, angel blonde wine stain, dispair wine stain, smoking aqua dispair, mermaid, tree imp, cyborg green, azid, angry blonde, smoking aqua tree imp, pastel green, lime green, fushia, purple ocean, grape juice, cyborg blue, pure aqua, choke, dispair strange blue, strange blue, cyan, smoking aqua, baby blue, majik pixie, violent violet, silver, platinum, pink hue white, angel blonde, snow, dispair angel blonde, angel blonde dispair, wine stain, cyborg red, strawberry, blood orange, orange fire, pumpkin, chocolate brown, honey brown, chestnut, dark blonde, bleach blonde, bronzed blonde, gold, warn brown, honey blonde, natural blonde, banana.
Skin: Gala - Pale Sultry Lustrebeam, Clothes: LaynieWear - Vanessa Purple