Hairspay
, the all hair island, featuring
Mirada
and
Sinsation
opened this Sunday to the public and features more hair than you can ever hope for. This also replaces Mirada Hair Mall so many of the vendors that you enjoyed from there have gone island-style to Hairspray. After all, who needs a mall dedicated to hair when you have an entire island where you can breathe hair?
April 3, 2007 - Update:
Damien Fate has added a barrier beneath the walkways for those who were having issues with falling. He has also added a teleport system at the landmark spot which clearly indicates the name of the shop, the gender of styles offered at the shop, and if the shop offers freebies.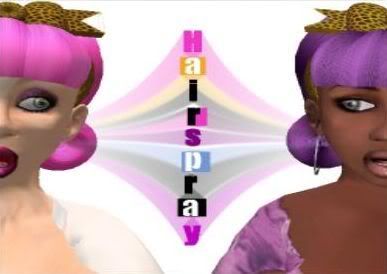 Hairspray Details:
Owners:
Damien Fate, Sinnocent Mirabeau, Washu Zebrastripe
Special Features:
Park
Lounge
Freebie Store
Roller Disco
Information Center
Strip Mall
Hair Salon (coming soon)
Vendors:
BG Gearhead
Bryce
Calla
Calico Creations
ETD
Fizzies
GearShift
Glamorous Ladies
Goldie Locks
Gurl 4 Guys
Gurl 6
Hairapy
Hair Styles by Tami McCoy
HCT - Men
HCT - Women
House of Paisley
IF Boutique
Jolie Femme
Madame de Pompadour
MAU's & MAJ's
Mirada
Mystikal Hair Designs
Nuclear Boutique
Panache
Parallax View
Pazazz
Pixelated Dreams
Primped
Random
Sinsation
Taunt
Tickled Pink
Virtual Creations
Wilted Rose