This blog has moved to http://www.savoirhairsl.com/?p=22.
Zero Style
offers a newbie hair box on Japanese Island Community called
Togenkyo
. The shop offers both women's and men's styles. The prices range from L$150 - L$250 per styles and L$500 - L$1000 for full color packs. The newbie box is now located in the main shop at the top of the staircase.
The Fog style is a and angled bob that falls just past the ears. There are angled bangs in the front the blend right into bob. The textures are not as shiny as others and the highlighting loses a bit of the true color. The color shown is listed as black but it is more like a dark brown.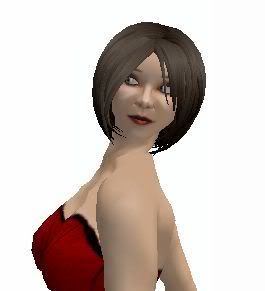 The Fog style only costs L$1 for five basic colors. The colors include: black, blonde, brown, brunette, and red.
Skin: PanJen - Hope Tone 1, Clothes: LaynieWear - Custom Red Corset, Tattoos: LaynieWear - Henna Tattoo