This blog has moved to http://www.savoirhairsl.com/?p=23.
Here Comes Trouble
is a great shop for both men and women. You can buy hair, clothes, accessories and more here. There are great hair specials running on L$1 for both men and women. A free outfit is available for in gender-specific boxes. This freebie has some of the best men's freebie jeans on the game.
The Bonita style is a wild, curly style with the hair pulled softly to the crown. Corkscrew curls fall down the back past the shoulders with random straight chunks. The face is framed with wispy, cheekbone-length bangs. The textures for this style are beautifully done in both traditional and funky colors.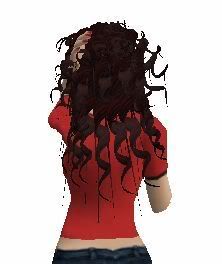 The Bonita style comes in a full color pack for L$1 in both big and small sizes. The colors in the pack include: auburn, black, black-brown, burnt, chestnut, cobbler, cocoa, deep red, darkness, chocolate, brown, dirty, dark pink, golden, green, honey, iced, killer, light purple, light pink, orange, pink, platinum, pretty, purple, purplie, raven, sandy, sexy, sherbet, red sophisticated, strawberry blonde, black-purple tipped, black-red tipped, brown-auburn tipped, brown-blonde tipped, girlie tipped, green-black tipped, orange-black tipped, platinum-black tipped, platinum-pink tipped, black-blue tipped, pumpkin dipped, purple-black tipped, sandy-blue tipped, sky tipped, spring tipped, teal-black tipped, vixen tipped, white-black tipped, white-silver tipped, vamped, white, wicked.
Skin: PanJen - Hope Tone 1, Clothes: LaynieWear - Red Harlot Graphic T-Shirt, Torrid Wear - Favorite Jeans, Tattoos: LaynieWear - Henna Tattoo