This blog has moved to http://www.savoirhairsl.com/?p=21.
Wilted Rose
is a small Goth shop that sells everything from hair and skins to clothes and shoes. A lucky chair for a free hair style is located in this shop in a clearance room. Next to the chair is a freebie box that is another of those free but cost L$1 boxes. This box contains samplings of hair styles from Wilted Rose: Piggies in four colors and Slick black with a bang attachment. This store will discontinue its newbie voucher at the end of this month.
The Slick style is long, straight hair that is slicked back down the back to the ass. In the front of the style is a red headband that can only change color in edit. Do not attempt this if you are not familiar with using edit. There is a bang attachment that I recommend using if you are going with this style. The bangs are long and frame the face down below the cheekbone. The texture for the hair is a bit flat lacking some of the highlights seen in other freebie styles.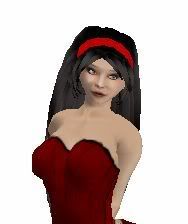 The Slick style costs L$1 in a gift box with four colors of the Piggie style. This style only comes in black. The clearance room does have some other styles at L$60 for a full color set.
Skin: PanJen - Hope Tone 1, Clothes: LaynieWear - Garnet Corset, Garnet Cheeky Pants, Garnet Stripey Socks, Tattoos: LaynieWear - Henna Tattoo