Hair by Taunt
is still running the special where you go off an a treasure hunt and win free hair. There are five hair styles in total. To begin the treasure hunt simply click the treasure map on their wall and pay L$1. The Salsa style is one of the styles you can win in copper.
The Salsa style is a long, straight style that falls down to top the top of the thighs. The strands are in large, razor cut chunks with many pieces sticking out at the back. The face is frame with similarly choppy bangs. The flexi moves a bit odd when walking. This style seems unnatural with the hair scooping up the the sky after curving halfway down the shaft. The texture has nice highlights that catches the light nicely.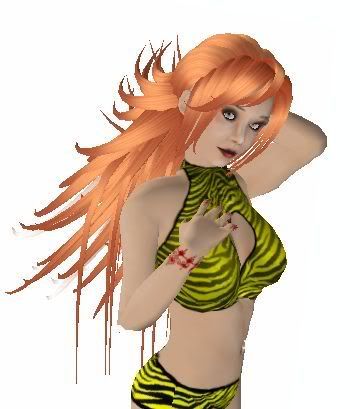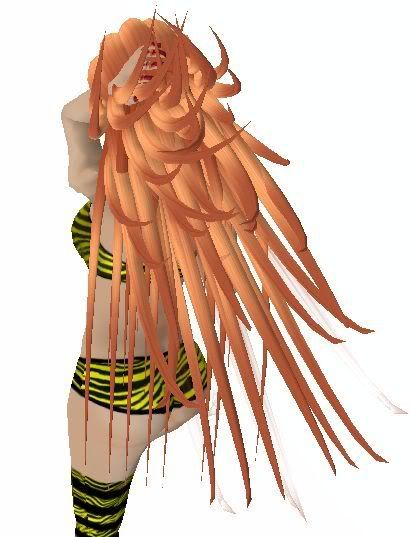 The Salsa hair runs L$199 per color, L$1 for the demo and $999 for all 63 colors in a Willow pack. The colors include in each pack are: blonde pack (wheat lick, sand, pumpkin, platinum, ivory, honey, gold spank, champagne, ash lick), brown pack (toffee, ginger, expresso, coffee, cocoa, chocolate lick, caramel, burnt spank, auburn kiss), black pack (onyx, midnight, jet, ice kiss, graphite, fire lick, chestnut, bleach spank, blackcherry), green blue pack (turquoise lick, sly, sapphire, neon, navy kiss, leaf, forrest, cobalt spank, aqua), pink purple pack (wine kiss, violet spank, tartlette, lavender, imperial, grape, fuschia, blush, amethyst lick), red pack (torch, scarlett spank, ruby lick, plum, currant, copper, cardinal, blood, blackcherry kiss), zomg pack (witchy, scorch, salt pepper, purple pants, pink pants, magic bus, le freak, fire pants, dark chocolate), pirate pack (wheat lick, toffee, tartlette, scarlett spank, sand, pumpkin, jet, dark chocolate, copper).
Skin: PanJen - Hope Tone 1, Clothes: LaynieWear - Not Your Mother's Stripes Yellow Heart Top, Not Your Mother's Stripes Yellow Cheeky Pants, Not Your Mother's Stripes Yellow Stripey Socks, Tattoos: LaynieWear - Henna Tattoo