Goldie Locks
has amazing specials on their lucky chair. They offer full color packs of each style in the chair. There seems to be a steady rotation of 4 styles which changes about once a month.
The Shaggy Ponytail is a short ponytail pulled to the crown of the head. There are straight cut bangs with a slight shag to them that part on the right side and fall just past the cheekbones. The ponytail itself is thick with a shag cut to the ends that does not even reach the nape of the neck. The texture is very highlight and could use a bit of a tone down but it works for this style.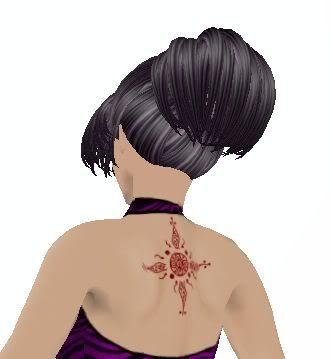 The Shaggy Ponytail hair runs L$330 for a full color pack, L$50 per color and L$1 for the demo. The colors include: black, steel, dark red, light red, russet red, ginger red, fire red, auburn, sun kissed, copper burnt umber, burned gold, gold, light blond, white blond, pale blond, true blond, strawberry blond, dark blond, sandy blond, golden blond, cinnamon blond, honey blond, amber blond, mouse brown, brown, mahogany brown, caramel brown, honey brown, walnut brown, dark brown, brown with blond highlights, coffee, chocolate, snow white, white, cotton candy, dark pink, hot pink, green, turquoise, baby blue, teal, blue, purple, red streaked, ice, smoke, flame, earth, lightning, skunked white, skunked pink, skunked red, skunked blue, skunked purple.
Skin: PanJen - Hope Tone 1, Clothes: LaynieWear - Not Your Mother's Stripes Purple Heart Top, Jewelry: Xcite! - Tribal Belly Piercing, Tattoos: LaynieWear - Henna Tattoo