This blog has moved to http://www.savoirhairsl.com/?p=14.
PanJen
is one of my favorite clothing and skin shops on the game. My skin came from this shop and they are reasonably priced at L$350. There are also two lucky chairs located at the entrance with a rotating stock of PanJen outfits. Although this shop is not a hair shop, it does offer a winter style for L$1. As this is a holiday special, I am not sure how much longer this style will be available. Psst, my skin came from this shop.
The Holly style is a cute, angled bob that falls just past the chin. The hair is parted down the middle with a small sprig of holly with berries on either side. The hairline could be a bit cleaner but for L$1 it is a great starter style.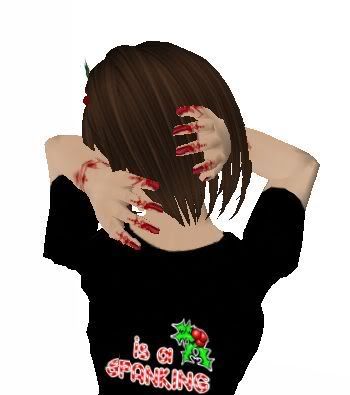 The Holly style costs L$1 for a six color pack. The colors include: black, blonde, light blonde, brown, natural red, and red.
Skin: PanJen - Hope Tone 1, Clothes: LaynieWear - All I Want Graphic T-Shirt, Tattoos: LaynieWear - Henna TattooUpdate: This hair is no longer there. Hopefully, she will make more styles.