Diversity Hair
offers many styles and special packs for both men and women. Just remember that this shop suggests changing your appearance to wear their hair. Diversity also has a very nice clothing line so be sure to wander next door and check it out.
The Tease style is two very loosely tied ponytails the just touch the shoulders. The face is framed by equally loose bangs that are long and chunky. The textures are very shiny, almost greasy. I wish the darker colors like the browns were a bit more true to their names.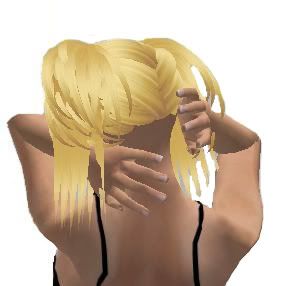 The Tease style costs L$1500 for the mega-pack, L$175 for a three color pack, and the demos are free. The colors included in the packs are: blondes(wheat, goldie, creamy orange), dark blondes(highlights, butterscotch, ashy), platinums(platinum sky, platinum pink, platinum), platinums II(platinum ink, platinum fire, platinum burnt), browns(chocolate, chocolate frost, brown), browns II(orange brown, light brown, butter tip), dark browns(deep brown, chestnut, brown black), reds(light red, bright red, auburn), coppers(dark copper, copper, burnt copper), oranges(reddish, dark orange, carrot), wilds(purple, green, blue tip), pinks(pink tip, pink inked, bubblegum), black tips(turquoise tip, silver ink, red black), blacks(dark black, black frost, black fire), blacks II(black purple, black poison, black pink).
Skin: Charlotte Hausdorff - Sweet Freebie, Clothes: PanJen - Pink Polka Dotted Dress Top