This blog has moved to http://www.savoirhairsl.com/?p=33.
Calla
has some of the best prizes if you can hit is right in the lucky chair. There are two chairs both of which will randomly give out selected hair styles from the Calla line. Other items the chairs have given away have been pearls and Calla logo items.
The Mimosa style is a razor cut bob that falls just past the ears covering them. The bangs chunk just above the eyebrow line in the same razor cuts as the bob. For those with a preference for short hair, this style is a nice, clean change from the wild and crazy hair that seems to be around.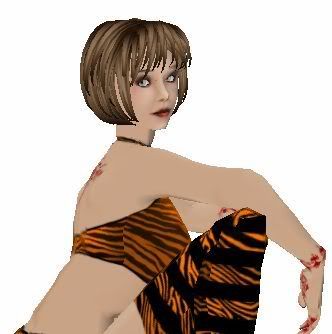 The Mimosa style has a 5-color packs for L$200, choices pack of 25 colors for L$850, I Want Them All packs for L$2000, and the demos are free. The colors included in the packs are: brunettes(light golden brown, golden brown, dark brown, chestnut, brunette), dark frosted tips(golden brown, dark brown, chestnut, brunette, black), calla combo(plum, black, chestnut, golden red, golden blonde), lights(strawberry blonde, pale blonde, golden blonde, ash blonde, blonde), blonde light tips(blonde with teal, blonde with pink, blonde with pale red, blonde with lavender, blonde with baby blue), blonde burnt tips(blonde with red, blonde with light golden brown, blonde with golden red, blonde with chestnut, blonde with brunette), reds(pale red, mahogany, golden red, fire red, copper), red frosted tips(red with mahogany, red with golden red, red with fire, red with copper, red with black fire), extremes(purple, pink, magenta, green, blue), darks(plum, midnight, black, black frost, black fire), black tips(black with white, black with red, black with purple, black with blue, black), pinks(pink, light pink, lavender tip, black tip, baby blue tip), white tips(white with red, white with purple, white with blue, white with black, white).
Skin: PanJen - Hope Tone 1, Clothes: LaynieWear - Not Your Mother's Stripes Orange Heart Top, Not Your Mother's Stripes Orange Cheeky Pants, Not Your Mother's Stripes Orange Stripey Socks, Jewelry: Xcite! - Tribal Belly Piercing, Tattoos: LaynieWear - Henna Tattoo