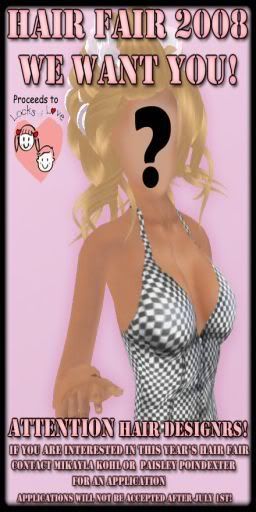 Attention all hair designers:
The Hair Fair 2008 wants you! The
Hair Expo is organized by a committee of designers, giving you the opportunity to view many different stores old and new all in one place. This is a great opportunity for any hair designer to show off their work to a large audience of hair fanatics.

You also get to meet and work with others who have the same passion as you do, while working for a good cause. Last year we decided to have part of our profits go to the Locks Of Love Charity. We will be doing that again this year with a few minor changes.
If this sounds like something that is right for you contact Mikayla Kohl or Paisley Poindexter for an application. If you are feeling a bit shy, you can grab an application at the
Savoir Hair
office(outside to the left of the doorway). The application deadline is July 1st so don't be late.