Today's style is from
Discord Designs
.
The Siren style is a long, straight style with separated strands falling down the back to the tops of the thighs. There is a color changing band that holds most of the hair back from the face with some long and short strands framing the face and falling slightly into the eyes. The band change script offers color suggestions or you can look up the
hex color number
for the color you want to change the band. The band will change to the color your set so you can try to get a perfect match with the outfit you are wearing.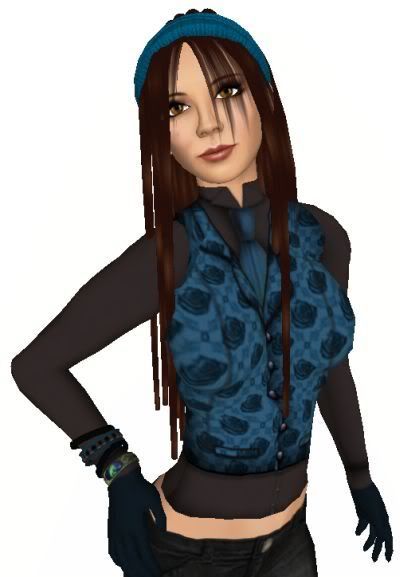 The Siren style costs $980L for a 72-color fatpack, $360L for a 12-color pack, $120L per 2-color packs, and the demos are free. The colors include: Shock/Snow, Silver/Grey, Lead/Anthracite, Silicon/Graphite, Gunmetal/Midnight, Onyx/Jet, Liquorice/Coffee, Cinnamon/Chocolate, Toffee/Auburn, Chestnut/Caramel, Pepper/Walnut, Cappuccino/Dirty Blonde, Black Cherry/Raisin, Plum/Penny, Black Grape/Damson, Ultraviolet/Amethyst, Blueberry/Lilac, Violet/Lavender, Raven/Forest, Sapphire/Reptile, Cobalt/Pea, Aqua/Leaf, Ice/Mint, Sky/Seamist, Malice/Lava, Marachino/Raspberry, Bronze/Crimson, Scarlet/Compote, Fuschia/Candyfloss, Pavlova/Sherbet, Hessian/Honey, Copper/Flame, Strawberry Blonde/Sunflower, Buttercup/Apricot, Rich Blonde/Ash Blonde, Barley/Platinum.
Pose: AnimaH - In the City, Skin: SYD - Wheat Makeup00, Clothes: silentsparrow - Morgan Blue Moon Top, SYD - Basic Black Jeans, Eyes: Gurl 6 - Golden Brown by PopFuzz, Lashes: Cake - Bedroom Lashes