Today's style is from
Dernier Cri
. This store just moved up from the Teen Grid. You can find male and female hair here and much more like clothes, skins, shoes and accessories.
The Kate Style is a fun style that is a short, choppy bob with the back shorter than the from. The hair in the back ends just past the neckline with soft layers while the hair at the front sides falls lower brushing at the neck. Some of the ends are flipped up and out in layers. Long bangs, parted on the right, fall slightly in the eyes. The demos at this store are really fun to play with because you can play at dying the hair different colors.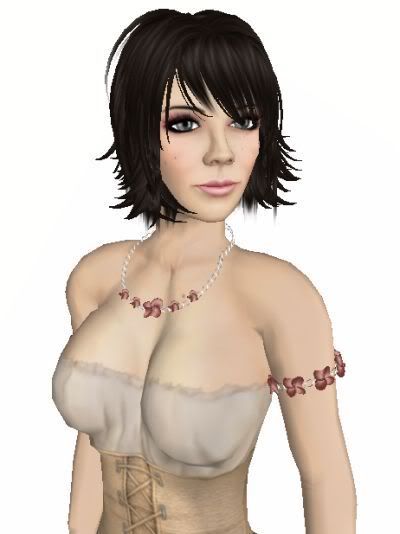 The Kate style costs $250L for a 10 hair pack, $175 for a 5 hair pack, $100L for a 3 hair pack, $50L for 1 hair pack, and the demos are $1L. The dye choices include: rainbow(9 choices), black(solid or 8 tipped choices), black dip, red dipped, red, salmon, beige, golden, washed, warm.
Pose: AnimaH - Male Pose 01, Skin: SYD - Cornsilk Makeup00, Clothes: Derneir Cri - Rogue, Jewelry: Dernier Cri - Pink Flower Set, Eyes: Gurl 6 - Silver by PopFuzz, Lashes: Cake - Bedroom Lashes