Kiss
is another new hair find. They have hair for men and women with a newbie rack of $5L hair packs.
The Vicky style is two ponytails that sit high on either side of the crown and fall down over the ears to the shoulders. The ponies themselves are slightly messing have that windblown look to them. There are shaggy bangs that fall just to the brows with a braid that lines the hair line sitting just behind them.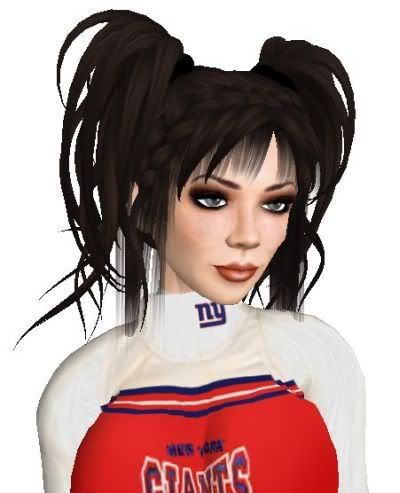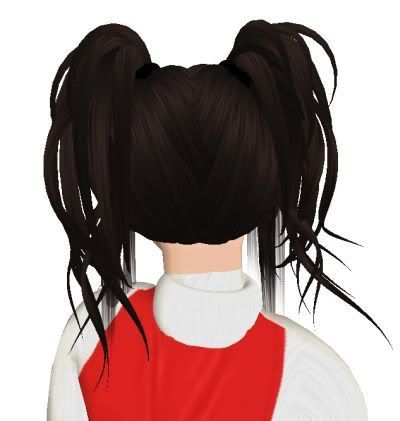 The Vicky style costs $1900L for an I Want Them All pack, $200L for a 6-color pack, and the demos are $1L. The colors include: pink pack 1(morning mist, pink panic, pink pearl, strawberry creme, sunrise, watermelon), pink pack 2(berry xplosion, candy apple, mystical, neon nights, tropical tease, wild orchid), purple pack(dragon sapphire, grape yum yum, lilac sparkle, sinister grape, storm, wisteria), red pack 1(autumn, clubbin' thunder, copper penny, sunset, thunder red, volcano), red pack 2(arizona, burnt umber, jalapeno, mango twist, paprika, rust), orange pack(apricot, c antelope, coral zest, creamsicle, papaya shimmer, tequila), black pack(black coffee, gothica, india ink, midnight, raven, red wine), brown pack(acorn, acorn spice, cocoa mocha, gingersnap, hashbrown, rothchild), blue pack(atlantis, blue bomb, caribbean, denim, russian blue, turquoise trouble), blonde pack 1(aztec gold, chamomile, champagne, golden wheat, strawberry kiss, sunshine), blonde pack 2(brandy butter, canary, french roast, lemon, tawny, toffee), green pack(amazon, cucumber, daiquiri, emerald forest, irish kiss, spanish moss), white pack(cordial, gin & tonic, radical frost, schnapps, vodka, zinfindel).
Pose: LAP - Got Some, Skin: LF CHAI Skin - Cream Celebrity Freckled, Clothes: LaynieWear - Giants Cheerleader Uniform, Eyes: Gurl 6 - Silver by PopFuzz, Lashes: Cake - Bedroom Lashes