There are days I want to be dressed to the nines, looking chic and polished and incredibly put together. But some days, I want my avatar to more closely resemble the person behind the keyboard- casual, but not unkempt. Rafaela from
Hair Solutions
is great hair for those sort of days.
From the front this style has slightly messy bangs parted in the middle, with a few strands curling free from the braid. The front and sides are pulled back into two braids high on the head.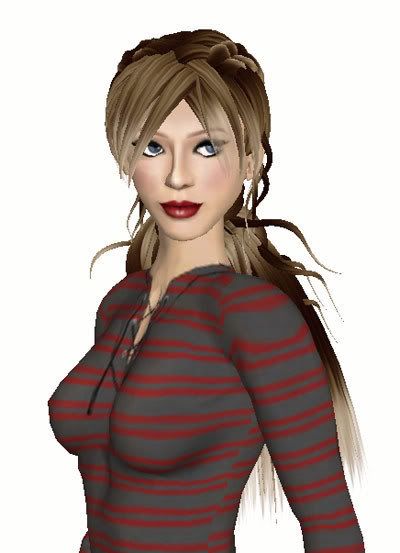 The back shows the braids pulled back to meet at the nape of the neck. The hair falls in a loose ponytail down to the waist.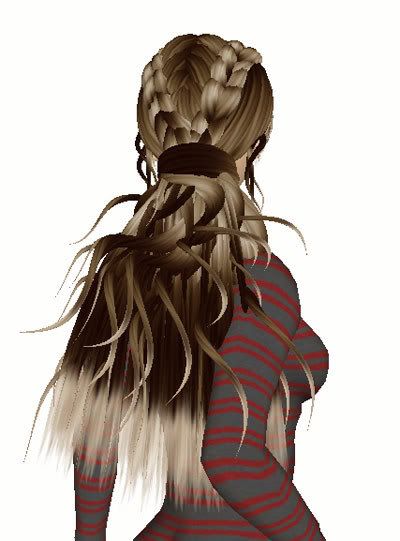 The Rafaela style costs $1500L for a 45-color pack, $200L for a 4-color packs, and the demos are $1L. The colors include: auburn, auburn black tip, auburn plat tip, baby blue, barely brown, butterscotch, cheesecake, chocolate, chocolate black tips, chocolate plat tips, cinnamon, cinnamon black tip, cinnamon plat tip, dark brown, dark brown black tip, dark brown plat tip, flame, fox red, frost, glossy blonde, glossy brown, golden blonde, highlight blonde, mud, onyx, onyx auburn tip, onyx blue tip, onyx choco tip, onyx pink tip, onyx plat tip, pale blonde, peach, pink, platinum, platinum auburn tip, platinum black tip, platinum blue tip, platinum choco tip, platinum pink tip, raven, slate, strawberry blonde, toffee, white rice.
Skin- TaP Vivant Almond Fleur SE, MM-Catwalk Eyelashes, Gurl 6 Eyes - Blue by PopFuzz, TaP Scarlet nails, *PERSONA* Stretch jeans (box), bossa nova - luisa stripe top (red)