Today's style is from
Tousled
.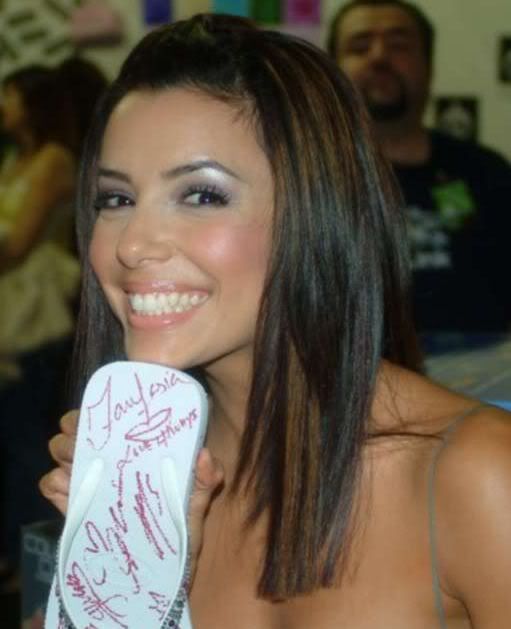 The Tarah style, based on a style worn by Jenny(Taylor Momsen) from
Gossip Girl
, is a long, straight style that falls just past the shoulders with clean ends. The hair in front is pulled back off the face and held in place just before the crown. The hand on the sides falls straight down to the chest completely covering the ears. One loose strand escapes from the style on the left side given the style a relaxed look. This style became popular among celebrities like Eva Longoria(shown) in 2004 and is still popular today being worn by Reese Witherspoon, Sandra Bullock, Mina Suvari, and Jennifer Lopez.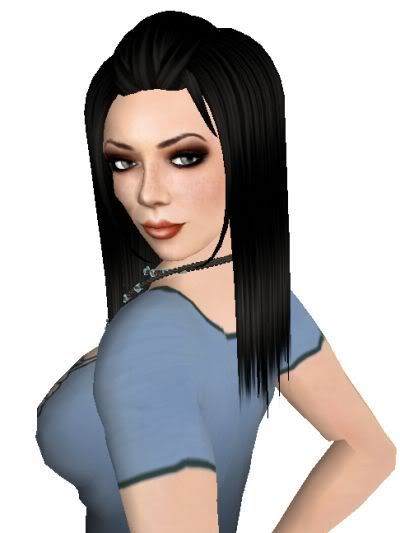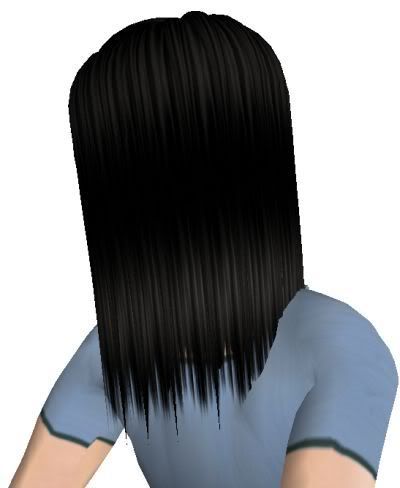 The Tarah style costs $1800L for a fat pack, $200L per 5-color tipped packs, $200L per 12-color tipped packs, $150L per 3-color packs, and the demos are free. The colors include: amethyst, amethyst_blacktip, amethyst_whitetip, darkash_blondetip, darkblonde, darkblonde_blacktip, darkblonde_whitetip, darkbrown, darkbrown_blacktip, darkbrown_whitetip, darkgray, darkgray_blacktip, darkgray_whitetip, darkgreen, darkgreen_blacktip, darkgreen_whitetip, goldenblonde, goldenblonde_blacktip, goldenblonde_whitetip, goldenred1, goldenred1_blacktip, goldenred1_whitetip, grape, grape_blacktip, grape_whitetip, grass, grass_blacktip, grass_whitetip, gray, gray_blacktip, gray_whitetip, green, green_blacktip, green_whitetip, lightbrown, lightbrown_blacktip, lightbrown_whitetip, lightpink, lightpink_blacktip, lightpink_whitetip, lilac, lilac_blacktip, lilac_whitetip, mahogany, mahogany_blacktip, mahogany_whitetip, mediumblonde, mediumblonde_blacktip, mediumblonde_whitetip, midnight, midnight_blacktip, midnight_whitetip, onyx, onyx_blacktip, onyx_whitetip, orangyred, orangyred_blacktip, orangyred_whitetip, pink, pink_blacktip, pink_whitetip, purple, purple_blacktip, purple_whitetip, rainbowblonde_bluetip, rainbowblonde_clovertip, rainbowblonde_mahogany, rainbowblonde_pinktip, rainbowblonde_purpletip, red, red_blacktip, red__whitetip, wheat, wheat_blacktip, wheat_whitetip, white, white_blacktip, white_darkgraytip, whitetip_blue, whitetip_green, whitetip_pink, whitetip_purple, whitetip_red.
Pose: AnimaH - Look Back, Skin: LF CHAI Skin - Cream Celebrity Freckled, Clothes: LaynieWear - Hibiscus Dreams Blue, Eyes: Gurl 6 - Silver by PopFuzz, Lashes: Cake - Bedroom Lashes, Jewelry: Kallista Kreations - Abalone Set