Exile
is a new shop that submitted hair for review. While trying to decided which style to use, I ran to Greenies wearing Cleo and I got so many people asking about it that it chose itself. The store has male and female styles as well as male clothing items.
The Cleo style is a high bun that sit on the crown with hair from the front pulled back in chunky pieces of the top and around. The framing pieces around the face are parted on the right and fall to the cheekbones. There are a few rows of loose hair between the framing pieces and the bun that fall down the sides and both in front and back of the ears. These pieces have gold, banded clips holding the hair into divided sections.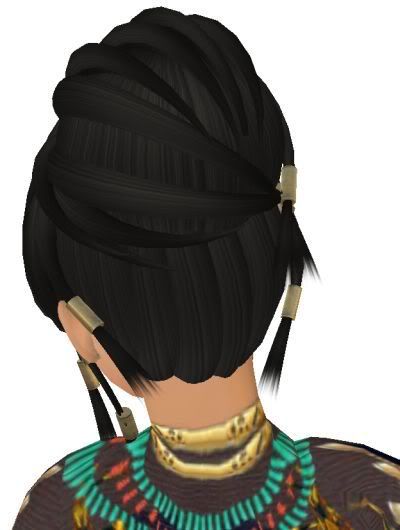 The Cleo style costs $300L for all colors and the demos are $1L. The colors include: ash blonde, black, blonde, red, sandy.
Skin: Dutch Touch - Series 2 Free Skin, Clothes: BareRose - Bastet Black, Eyes: Gurl 6 - Hazel by PopFuzz, Lashes: Cake - Bedroom Lashes