Today's style is from
Curl Up and Dye
.
Considering it is Christmas this hair seemed perfect to go with the Christmas carol,
The Twelve Days of Christmas
. How is that you ask? Well, the song has many birds in it and this hair has a bird in it. Perfect. The Duchess style is a pre-revolutionary French style worn by the aristocracy. With hair piled high on the head formed around a bird cage which is embedded into the style above the crown. Curls, the kind my grandmother called banana curls, are optional to frame the face and fall down the back of the neck. The entire style is accented with white bows and topped with long feathers. The bird in the cage is scripted with several choices including a songbird option.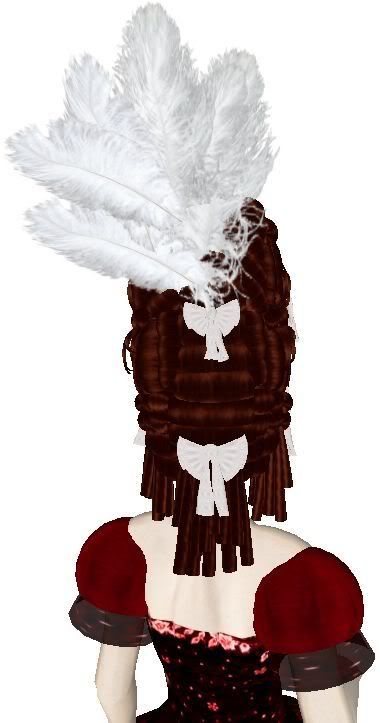 The Duchess style costs $300L for all 3 colors. The colors included are: auburn, black, and sand.
Pose: AnimaH - Rich Girl, Skin: Sin Skin - Clara Bow Red Whisp, Clothes: Vintage Clothing Reproductions - Starry Flower - Deep Ruby, Eyes: Gurl 6 - Silver by PopFuzz, Lashes: Cake - Bedroom Lashes
Addendum:
I do not normally do this but a question was raised about this style and I wish to point a few things out. No one person owns the idea of having a birdcage in a hairstyle this was common in 18th century for "
imaginative ladies to create mini-bird cages complete with birds on top of their heads.
" To say that one style copied another because they both contain birdcages is like saying that one ponytail style is a copy of another.
(Quote from
Hairstyles Through the Age
)