Today's style is from
Ingenue
. About two weeks ago I had asked Betty Doyle if she took suggestions for hair because I came across a picture of the doll with hair that just screamed Ingenue. I sent her the picture and a few days ago she dropped the hair on me.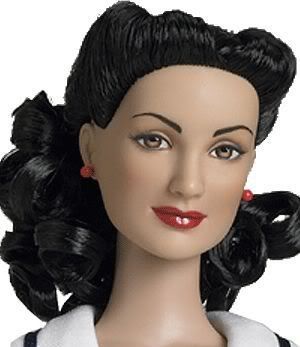 The Jitterbug Doll style is a medium, curly style that is straight until halfway down the head where ringlet curls begin to fall down to the tops of the shoulders. The hair in front is smoothed back into rolls framing the hairline with clean lines. When I look at many of the styles at Ingenue is am reminded of all the beautiful styles my grandmother had on her walls and Jitterbug Doll is definitely reminiscent of the glamorous styles of the 1940s.
The Jitterbug Doll style costs $100L per color and the demos are free. The colors include: blue black, natural black, red, auburn, titian, blonde, mahogany, platinum.
Skin: Sin Skin - Clara Bow Red Stratus Sin Skin, Clothes: PixelDolls: Emotional Warfare Red, Eyes: Gurl 6 - Silver by PopFuzz