Maybe it's because I have long hair in RL, but I keep finding myself drawn to short styles in SL.
Skin Flicks
Kyra definitely satisfies that urge for short hair! This style is short and choppy, but still sleek enough to wear with a pretty dress.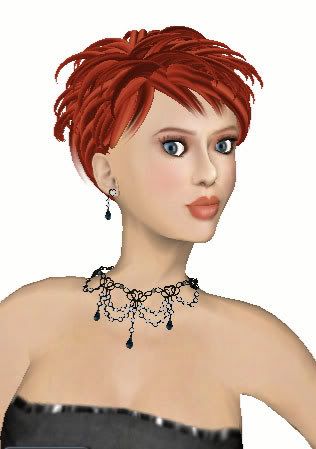 The back is very neat, leaving a clean neckline.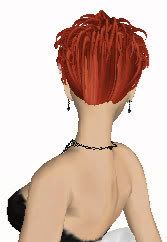 Kyra is copy, modify, no transfer, and comes in three packs of colors for L$250 and fat pack is L$2000. Your color choices are :
Reds- Auburn, Carrot, Deep Red
Dark Browns - Ash Brown, Deep Brown, Mahogany
Lite Browns- Golden Brown, Lite Ash Brown Lite Golden Brown
Blondes- Lite Ash Blonde,Golden Blonde, Platinum
Pinks- Fushia, Hot Pink, Pink
Blues- Midnight Blue, Purple
White, Grey and Bloack-Black, Grey, White
Real Hair Collection
Blacks- RH Onyx, RH Teflon, RH Night Sky
Reds- RH Burnt Pumpkin, RH Carrot Top, RH Rose Wood
Dark Browns- RH Century Brown, RH Cocoa Mousse, RH Dark Chocolate
Lite Browns- RH Morocco, RH Toast Brown, RH Cafe Mystique
Blondes- RH Golden Blonde, RH Lite Ash Blonde, RH Cooper Blonde
Greys- RH Salt & Pepper, RH Silvermoon, RH Drift Wood
*NB* Prim Eye Lashes: Total Glam (Gold Tipped); bossa nova - FREE lucia dress; Skin - TaP Vivant Almond Candy 2; Gurl 6 Eyes - Blue by PopFuzz; Alienbear Design (BLACK Princess Gelasia Set white)