For everyone wondering where
Diversity Hair
's Cobain style disappeared to, you can rest easy. It's now up again, retextured and gorgeous. It made me sad I didn't have a flannel shirt for my guy shape to put on! (Teagan says he still looks like me. I'm not so sure...)
The front is pure Kurt Cobain, choppy and loose with a bit of flexi to soften it up.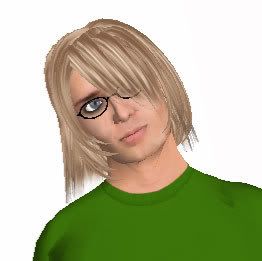 The back is simple and well done.
The really cool thing is that Diversity is having a sale on the natural colors - L$150 until October 31, so do visit and pick up a pack or three while you're there! Good guy hair is hard to find! There's a discount corner (singles L$50, naturals $75, and fatpacks for L$300). There's also a dollarbie style for guys and one for girls, and as if that's not enough, Diversity also offers one free style for avatars less than 30 days old!
(I apologize, I seem to be exclamation-mark happy. But hair sales do that to me!)
Cobain is L$1000 for the mega-pack, $300L for 6-color regular packs, $250L for 6-color tipped packs, L$175 for a 4-color pack, and the demos are free. The colors included in the packs are: Sultry Reds(bordeaux, burgundy, cranberry, marooned), romantic reds(poinsettia, poinsettia frost, poinsettia night, valentine red), flirty reds(cayenne, cayenne pepper, nectarina, nectarina dreams), brainy browns(french roast, hazelnut, hazelnut creme, hot chocolate), chic browns(burnt marshmallow, java, mochachino, sequoia dusk), modest browns(ashwood, burnt ashwood, peanut, peanut butter), caribbean(mermaid, mermaid harbour, mermaid treasure, turquoise sea), paradise(pink flamingo, tutti fruti, tutti fruti cream, tutti fruti night), vibrant blondes(burnt butternut, butternut, butternut cream, toasted butternut), casual blondes(honey suckle, rooted honey, seaside dirty, seaside sand), glamour blondes(champagne, honey suckle, pecan, seaside sand), sleek blacks(eclipse, nocturnal, pewter, twilight), metallic greys(moonlight, moonlit night, pewter, pewter light), bombshell(champagne, champagne fizz, champagne harbour, champagne night, champagne passion, champagne romance), rave blacks(blackberry, eclipse, eclipse light, eclipse passion, eclipse poison, fushia kissed), carnival(appletini, deep orchid, harbour, hearthrob, mesa sunrise, royale).
Skin - [ND] (Hair) - Shaved "Eyeliner", eyes - Gurl 6 Eyes - Blue by PopFuzz, SYD Badger Graphic Tshirt, (Persenickety!) - Men's Eyewear - Johnathan (Black and clear), ::MIA:: Designer Jeans