I'm all choked up here, I just love the messy piggies with the Bettie Page bangs.
Artilleri
's
Dayna V2
is such an adorable retro style, I'm tempted not to take it off again! The front is pulled back, with those distinctive bangs and two messy pigtails over your shoulders.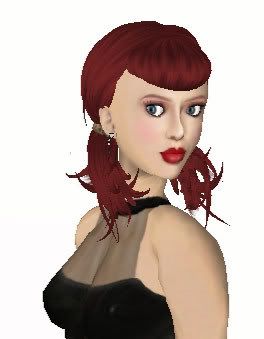 The back is neatly parted, with texture-change hair ties. I love how Antonia Marat adds in fun things for the hair, be it barrettes, scarves, or hair ties.
The Dayna V2 style costs L$190 for a three color pack and demos are L$0. The colors included in the packages are: blacks (purple black, blue black, black), blondes (pink blonde, light blonde, golden blonde), browns (caramel, brown, brown october), reds (very very red, red, fire red).
Skin - TaP Vivant Almond Candy 3; Gurl 6 Eyes - Blue by PopFuzz; Dress - LaynieWear Emma Black