Today's style is from
Tickled Pink
. Just an extra note that this shop has changed their freebie to a style called Gwenyth that better reflects the talents of Carryn Concord. So head on over there and grab it if you haven't already.
The Candy style is a cute pony style with two ponies sitting high and back on either side of the head. The ponies are short falling level with the jawline and are held in place by an assortment of bright ribbons in pink, blue, and green. The bangs are parted left of center and cross the outer corner of the right eyes to brush the cheekbone. Cherlindrea paired this with a free gift she got from ShadoWiccan and it looked great.
Guest Model: Cherlindrea Lamont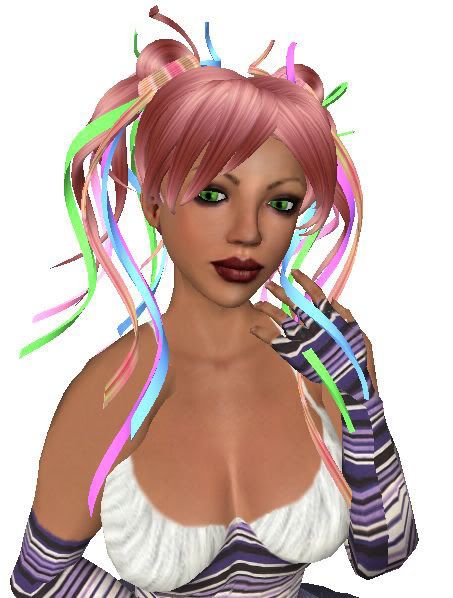 The Candy style costs $1200L for a truly tickled pack, $195 for a 3 color pack, and the demos are $1L. The colors include: snow white, reddish brown, red, raspberry, platinum blonde, pinky, olivina, midnight blue, marine, mahogany, honey blonde, grey black, greenery, grapefruit, golden brown, golden blonde, french roast, espresso, electric blue, dark blonde, dark auburn, chestnut, blush, bloom, black cherry, black, autumn, auburn.
Skin: MM Skins - Tan SkinGloss Tropical, Clothes: ShadoWiccan - Lily