We will announce the winners of the Savvy Awards later today after the grid is up.
Today's style is from
Curious Kitties
.
The Keko style is an extreme updo style with the hair piled high at the crown with long tendrils spilling down the back and molded up above the crown. There are three long poles going out each side for six in total. Hair is wound loosely around the poles being held in place by bands and falling down the ends of the poles with some going as long as the top of the thighs. The bangs are parted in the middle and fringe across the tops of the eyes. This style uses a system hair base and an amazing prim attachment for a nice blend of Geisha meets Harajuku.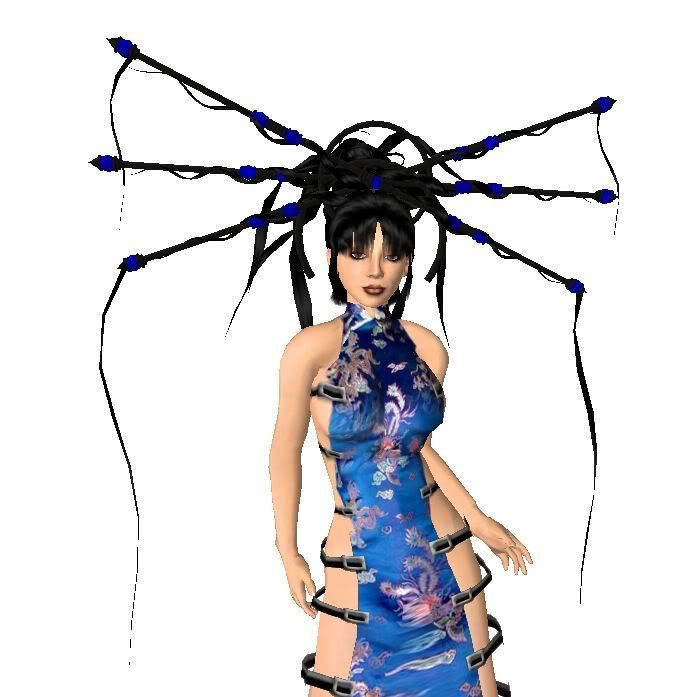 The Keko style costs $290L a color and there is no visible demo. The colors include: pure rainbow, pure bright green, pure pink, pure white, pure light blue, pure bright blue, pure dark blue, pure dark red, pure dark purple, dark purple, pure bright red, pure light blonde, pure orange, pure golden blonde, pure brown, pure black, brow tips, orange tips, yellow tips, red tips, purple tips, blue tips, green tips, pink tips, white tips, skunked pink, skunked red, skunked purple, skunked yellow, skunked green, skunked blue, skunked white.
Skin: Gala - Pale Sultry Lustrebeam, Clothes: FallnAngel - Blue Chinese Buckles Dress