It's pretty clear why Teagan asked me to write for Savoir Hair- we think so alike! Did we plan the pirate thing? Heck no. We just both love it! So here's the Gurl 6 take on it - Gypsy.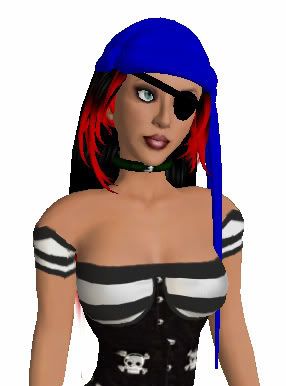 This style is cheeky. The bandanna can be tinted (As I did, to get this blue...), and the rough chunks that frame the face are just perfect, IMHO. Looks like I took scissors and just softened the front (As I'm known to do in my RL!). Absolutely beautiful.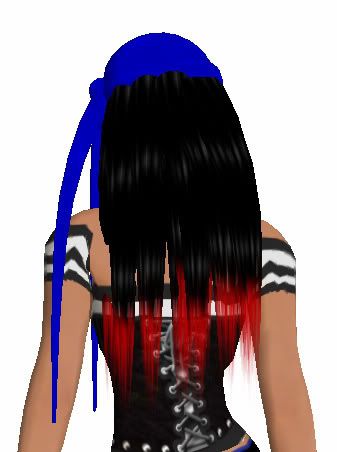 The back is long and even, with enough flexi to make you feel really, really sexy. At least, it does me!
The Gypsy style costs L$195 for a four color pack which comes in small, medium and large. Demos are L$1, and the Everything pack is L$999. The color packs include: dazzle(shimmery red, peachy, ginger, copper), delicate(straw, gold, cream, blonded), sugar(vicious pink, raspberry lemonade, electric candy, cotton candy), seduction(toast, light brown, elektra, dark brown), dipped(pink dipped blonde, pink dipped black, dipped strawberry, black dipped blonde), drama(milk, black white, black red, black gloss), hotstuff(tangerine, strawberry, sexy red, natural red), sunshine(light blondish gold, light blonde, golden blonde, creamy blonde), dirties(honey, dirty blonde, black n gold, black light brown), sultry(hazelnut, golden brown, chestnut, caramel), platinum(platinum red, platinum pink, platinum black, platinum), midnight(rebel, dirtier white, black cherry, black), berries(seduction plum, deeper purple, blueberry, blue), diva(toffee, sand, cocoa, chocolate), candy(black with blonde tips, black silver, black purple, black blue).
Shirt - LaynieWear muted black stripes pirate shirt, LaynieWear - Pirate Cincher, Boneflower - Pirate Eyepatch, Jewelry - Black choker with buckle, Skin - HYBRID II - Vestal - Face #9