Bryce Designs
is one of the only designers giving out freebies of his new exclusive hair at the
hair fair
. Bryce one half of the Wig Out group and sells hairstyle that are for men, women, and unisex styles.
The unisex Julep style is a long, straight ponytail that falls from just below the crown to the small of the back. The face is framed with chunky bangs that just brush at the cheekbones. The simplicity of this style makes it an easy wear for either a man or a woman.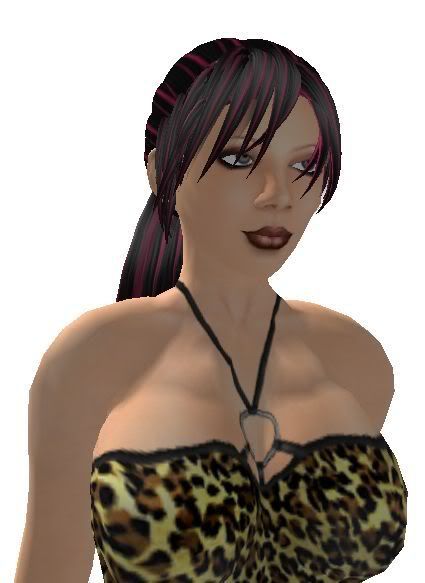 The Julep style costs $1500L for the 44-color fat pack, $195L for a 4-color pack, and $1L for the demo. The colors include: P1(beachy keen, sand, strawberry, sunkissed), P2(blackened beachy keen, blackened sand, blackened strawberry, blackened sunkissed), P3(bewitched, charisma, divinity, enchant), P4(chocolate, gold rush, mocha, sienna), P5(auburn, bittersweet, cherrywood, flame), P6(blackened auburn, blackened bittersweet, blackened cherrywood, blackened flame), P7(black widow, blackened phantom, phantom, raven), P8(black magic, nightmare, vamp, voodoo), P9(black cherry, midnight, mystic, spellbound), P10(blackened grape, blackened bubblegum, grape, bubblegum), P11(blackened bruised, blackened true blue, bruised, true blue).
Male Skin: Nora Male Skin, Male Clothes: SYD - Devil Doll Graphic T-Shirt, Female Skin: Gala - Pale Sultry Lustrebeam, Female Clothes: Artilleri - Leo Surprise, PixelDolls - Strappy Shiny Pants