Curio
is a large shop with hair, skins, and accessories. There is hair and accessories on the first floor, skins on the second floor, and discounted items, including skins, on the third.
The Gala style is a long, straight style with just a bit of wave to it that falls down to the small of the back. Several strands of hair curl over the front of the shoulders. Across the brow are bangs are a straight, cut and curled under into the Bettie Page style. The textures are a bit off where the black look like a dark brown but I still love this hair. The texture shown is blue black which looks closer to black than the black texture.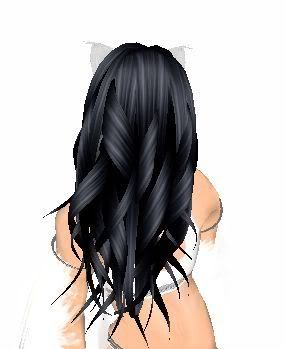 The Gala style costs $900L for a 30-color fat pack, $200L for 2-color, 3-color, or 4-color packs, and the demos are $1L. The colors included are: black(black, blue black, brown black), brown(dark brown, brown, auburn), dark blonde(strawberry blonde, blonde, ash blonde), red(natural red, light red, copper, bright red), light blonde(white blonde, wheat blonde, straw blonde, light blonde), pink(salmon, magenta, bright pink), blue(light blue, dark blue, blue), green(green, dark green), purple(grape, dark purple), fairy(white, fairy purple, fairy pink, fairy blue), vamp(vamp red, vamp purple, vamp pink, vamp blue).
Neko Parts: Miau Haus - Twitchy Kitty Ears White, Skin: Gala - Pale Sultry Lusterbeam, Clothes: Undressed - White Feathered Silks