Electro Kitty
is a small shop located in an odd place. At first I wasn't sure I was at the store so don't be confused. This shop sells fun Neko items like boots, eyes, belts, and even a sleeping kitty for your head. Elec Tone has just started his hair venture with this one unisex style but more are in the works.
The Neoki style is short, choppy chunks wildly splayed in a fun fashion falling almost to the shoulders. The face is framed with longer chunks that are parted just right of center and fall past the collarbone. The textures are soft, looking touchable, and there is just enough flexi to give it a slight sway when moving. The best part of this style is it is suited for both men and women.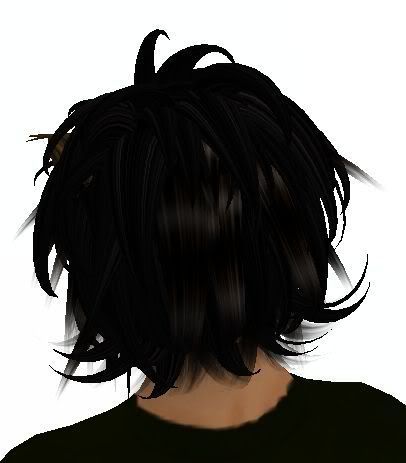 The Neoki style costs $100L per color and the demos are free. The colors are: darling black, impulsive blue, and devily red.
Neko Parts: Miau Haus - Twitchy Kitty Ears Brown and White, Male Skin: BareRose - MSkin Rokuro, Male Clothes: SYD - Guns N Roses Crew Neck, Female Skin: Nevermore Studios - Hybrid II Spritely Face #1, Female Clothes: PixelDolls - Ann Bodice Mix