Dusk to Dawn
has many items for newbies including a wall of dollarbies under a sign that says freebies. There are hair packs for both men and women as well as clothing and a lucky chair.
The Chrissy style is two ponytails held in place by thick, white scrunchies on either side of the head. The bangs are straight cut across the brow. This style has some serious issues. The ends have been thinned out to nothing with some serious transparency issues. The style itself would be cute perhaps with a different texture.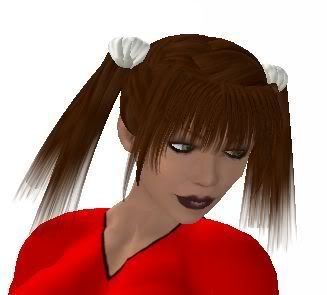 The Chrissy style costs L$1. The colors include: midnight, light red, golden blonde, and dark brown.
Skin: Nevermore Studios - Hybrid II Spritely Face #1, Clothes: SYD: Rainbow Red V-Neck