Color Me Couture
is located as part of L.A.M.E. Designs. The layout of the area is very nice but there is not enough product for the size of the area. Most of the designers are visible each time I visited the area.
The Alicia style is a short, straight cut that is parted down the middle and falls to the jawline. The bangs are straight cut across the top of the brow with razored edges. The back is pulled up into a mass of random spikes. Okay, does anyone else see the big problem with this style? Anyone else notice that giant line that just jumps right off the style? This line should not be here at all. The alignment of the prims is off enough to be distracting. The textures were hard to evaluate because I was too distracted by the nasty line.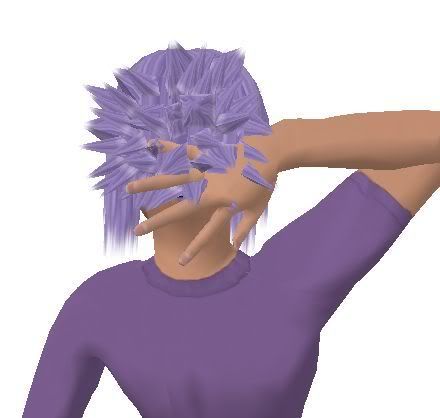 The Alicia style costs L$150 for a full color pack. The colors included are: bubblegum, cotton candy, mint, tangerine, and violaceous.
Skin: Nevermore Studios - Hybrid II Spritely Face #1, Clothes: SYD: Elderberry Crew Neck