Jolie Femme
is a small shop with hair, skins, and apparel for women only.
The Curly Bang Updo style is a simple updo with the hair piled high on the head and scattered tendrils slipping out. The face is edged with a sprig of curled bangs. Sounds nice. Right? Wrong. This style has so much wrong with it I am not sure where to start. The texture looks like a bale of hay more coarse than anything else. The style is poorly put together that no amount of position, stretching, and rotating could make it sit nicely on the head. Both the hairline and neckline are choppy which does not make for a nice hairstyle.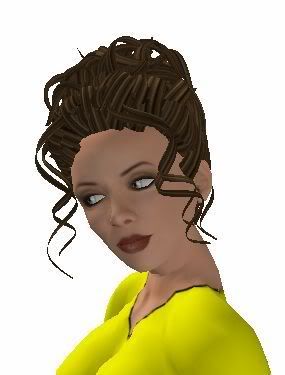 The Curly Bang Updo style costs L$124 for a full color pack, L$39 per color and the demos are L$1. The colors included are: strawberry, irish red, honey blonde, golden blonde, copper, brunette, auburn.
Skin: Nevermore Studios - Hybrid II Spritely Face #1, Clothes: SYD: Rainbow Yellow V-Neck