This blog has moved to http://www.savoirhairsl.com/?p=17.
*DG* Innovations
offers a free newbie box at
The Free Dove
. Inside the box contains full versions of Vivaldi Winter (bashful blonde), Impact Hair (punk black & blue), Timeless (chestnut), Necromancer (black), and Every Day Girl (fire red). By it side, it is a box of men's hair with full versions of Zeus (black) and Mohawk (chestnut with passion red). As of this writing the freebie boxes are not located in their main store.
The Vivaldi Winter style is pulled back to the crown and flows down the back in long, chunky twists. There are short, wispy bangs at the hairline. The texture has just enough shading to look amazing. This style reminded me of a wig my friend had someone sculpt for her. I was not fond of this style until my friend got it in black after I showed her the freebie. It looks amazing in black. The Vivaldi twist line comes in all four season, each very different from each other and worth checking out.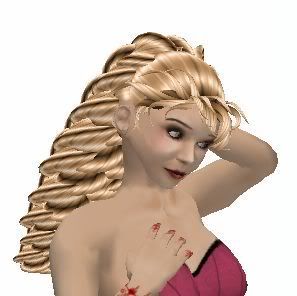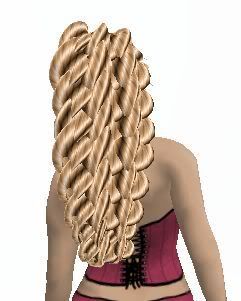 The Vivaldi Winter hair costs L$250 for a color pack and L$750 for full color pack. The colors include: fun colors(radioactive green, absolute aqua, electric blue, positively purple), stylen colors(simply fuchsia, bashful blonde, medium brown, funky blonde), black brown(sleek black, sultry silver, creamy chocolate, cheerful chestnut), reds(fire red, beatuful brown, passion red, lovely light brown).
Skin: PanJen - Hope Tone 1, Clothes: LaynieWear - Tourmaline Corset, Tourmaline Cheeky Pants, Tattoos: LaynieWear - Henna Tattoo