Today's style is from
LaynieWear
. Seeing how she is also a writer for the blog she will not being blogging her own stuff but someone encouraged me to blog it for her. It is also Laynie's RL birthday today so it makes it a great day to blog her. Be sure to pop by and wish her a Happy Birthday.
The Marissa style is a tight updo where the hair is formed into a bow just below the crown. The updo is held in place by a pair of chopsticks with three barrettes accented the middle of the bow shape. The bangs are smooth with a clean edge along the brown line that curves in slightly at the temples.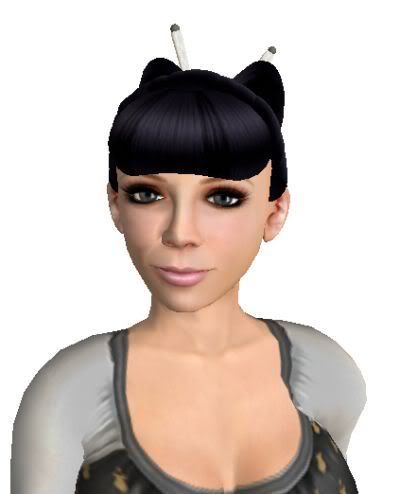 The style Marissa style costs $1000L for a 72-color fat pack, $200L for a 9-color pack, and the demos are $1L. The colors include: ashblonde, black blue stripe, black emerald stripe, black green stripe, black emerald stripe, black orange stripe, black pink stripe, black purple stripe, black red stripe, black teal stripe, black yellow stripe, blue black, bright blue, bright emerald, bright mint, bright orange, bright pink, bright purple, bright yellow, bright violet, bright yellow, carnival black, charcoal, dark ash blonde, dark ash brown, dark auburn, dark barley red, dark blue, dark cool brown, dark emerald, dark gold blonde, dark orange, dark pink, dark purple, dark red, dark strawberry blonde, dark teal, dark violet, dark warm brown, dark yellow, d dark red, golden blonde, jade black, jet black, light ash blonde, light ash brown, light auburn, light barley red, light blue, dlight cool brown, light emerald, light gold blonde, light orange, light pink, light purple, light red, light strawberry blonde, light teal, light violet, light warm brown, light yellow, medium barley red, medium ash brown, medium auburn, medium cool brown, medium warm brown, poison black, purple black, red silver, strawberry blonde, teal black, warm black.
Pose: LAP - Barbie 10, Skin: D-Skin - 31_E0_F0_L2, Clothes: Zaara - Moksh black/gold, Eyes: Gurl 6 - Silver by PopFuzz, Lashes: Cake - Bedroom Lashes