When I got the notecard that Magika had new hair out, I literally dropped everything. OMG, so good. I still can't decide which one I liked best, so I asked Sabina Gully to help me out and pick one in a color of her choice. I'm going shopping as soon as I get this posted!
This long style has attitude. Most of the hair is pulled back from the face with a cute wrap (it even has buttons on it!), but a good bit of the front is left down. Long choppy bangs fall in front of the right eye, lending this style more than a bit of sass.
From behind, this hair falls past the waist in long, straight lushness. What can I say, I'm a sucker for this kind of thing!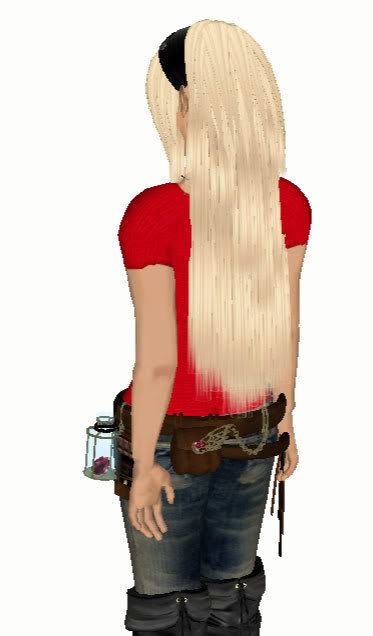 The #@%! style costs $179L a color and the demos are free. The colors include: blue, purple, pink, red, brown, blonde, black, grey, white.
Pose - [LAP] - Anticipating, Skin - LW Laynie Vixen Silver Stripe, MM-Catwalk Eyelashes, Gurl 6 Eyes - Blue by PopFuzz, Shirt - LW Audrey Red, Jeans - TRUTH - PICNIC DENIM, Belt - ::: kc ::: 2008 St. Valentine's Day, Naima Artemys Boots Black, EarthStones Wire Wrapped Crystal Necklace - Labradorite