Cassini Creations
is a store with a large variety of items that are scripted. There is shoes, shirts, dresses, capes, silks, furniture, hair, and scripts. Please remember to read the notecard carefully as the hair is scripted. All of the hair also comes with Xcite! scripted version with the exception of the dollarbie hair style which does not.
The Gillian style is a long, straight ponytail that falls straight down past the small of the back. The pony is held in place low on the crown with a knotted bun. There are swoop bangs that cross the face from right to left with a loose strand lightly brushing the left eye. This hair is scripted for sizing where you can resize the entire wig or individual prims. Two version of each color come with the wig, regular and Xcite!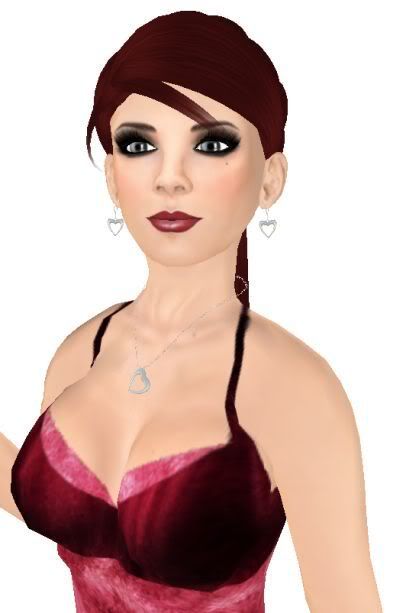 The Gillian style costs $600L for a fat pack, $175L for a 4-color pack, and the demos are free. The colors include: blonde(blonde, platinum blonde, strawberry blonde, honey), red(auburn, copper, orange, red), brown(brown, chestnut, chocolate, mahogany), dark(grey, aubergine, blackish blue, black), party(green, teal, purple, pink).
Pose: AnimaH - Peaceful Guy, Skin: Tuli - S5 Pale Diva 3, Clothes: LaynieWear - Valentine's Hunt Dress #3, Jewlery: Caroline's - Valentine's Silver Heart Pendent Set, Eyes: Gurl 6 - Silver by PopFuzz, Lashes: Cake - Bedroom Lashes